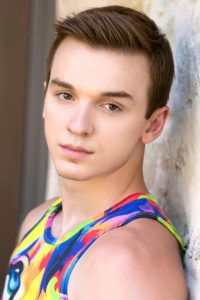 "The name Slade Monroe just sounds like an actor, doesn't it," said Kathleen "Kat" Monroe, mother of the North Texas actor currently filming the major motion picture, "12 Mighty Orphans," starring Luke Wilson and Martin Sheen.
This April, just prior to his graduation from Argyle High School, Monroe received an invitation to audition for "12 Mighty Orphans" through his agent from the Kim Dawson Acting Agency in Dallas.
Following a couple of auditions for the film, then graduation, he moved from Texas to begin his freshman year toward a Bachelor of Fine Arts degree in Acting for Screen on a scholarship to California's Chapman University.
Monroe received another callback audition for the film. In September, he was cast as "Wheatie," the quarterback for the historic football team of orphans from Fort Worth during the Depression Era decade of 1930-40.
The film is based on the true story as recounted in the book, "Twelve Mighty Orphans" by author Jim Dent.
Monroe took a leave of absence from school and began filming on Oct. 7 in Fort Worth and the surrounding area.
"Even though I have been warned, I never fully appreciated the words of caution that were explained to me by more experienced actors– that the schedule would change quite often," Monroe said about being a working actor. "We have already had a few, but there is something very exciting about it, though, so I can't really complain."
Making his film debut, Monroe, 19, enjoyed acting from a young age.
"Being a performer of any type has always been a feeling of comfort to me," said Monroe. "Even though it is risky, it has always made me feel like I have a true sense of worth."
Monroe is picked up from his hotel each morning at 6:45 a.m. and driven to the daily film location. He goes to hair– cut in the style from the 1930s– and makeup; then to his trailer to put on his costume for rehearsal and filming.
In preparing for his role, Monroe attended a football camp for two weeks in Ft. Worth, learning plays and watching archive 1930-1940 football film.
In 1899, a school was constructed in Fort Worth to house and educate the orphans of Texas Freemasons; the basis for "12 Mighty Orphans."
A World War 1 veteran– with a troubled past– accepts a job as head football coach at the Masonic Home Orphanage. The coach, Rusty Russell– portrayed by Dallas-native Luke Wilson– puts together a scrawny, underfed football team. This group of twelve boys were bound together by hardship and death. They began with nothing, not even a football.
Football brought life and purpose to the group of orphans. It built character, team values and a sense of family. Martin Sheen is cast as the school's doctor, "Doc Hall."
Coach Russell molded the youngsters into unlikely athletes and he lead the team of orphans to the State Championship; and, inspires a broken nation along the way.
In a promotional photo shoot, a photographer from the iconic "Life Magazine," photographed the movie cast recreating Life's original historic photo shoot from the 1940s.
Unlike many people in the spotlight, notoriety isn't what motivates Monroe.
"The most satisfying things to me were the first time I heard 'action' and the first time my director [Ty Roberts] said, 'it was a good shot," he said. "Those are the two things I have always wanted to hear.
"My favorite genre is drama, because dramas have the ability to tell a story with greater depth. The characters present in dramatic stories catch my interest, because they generally seem to create a more interesting plot. But that is my personal opinion."
"12 Mighty Orphans" certainly fulfills that requirement. It tells the story of America's love for the underdog. It's a tribute to a courageous band of kids from a time when America desperately needed fresh hope and big dreams. It is heartwarming and tells the real-life tales of these orphans and the man who coached them.
"As a first-time actor in a feature film, I typically have many questions from the day-to-day shootings and Jake Austin Walker (who plays Hardy Brown) has been an actor for all of his life and he's got the answers," said Monroe. "This is definitely not his first rodeo."
And, although this may be Monroe's first professional film "rodeo," he has a future direction and focus.
"I would never close my mind off to an opportunity to act or perform," he said when asked about theater acting. "But, the pace at which film and TV go fits better with who I am. My area of focus, after acting, will eventually be being a producer. It is very important to understand the business side of film, as much as the on-camera side."
Back in Argyle, his parents, Bruce and Kathleen, plus his older brothers, Hunter and Jett, form a support base for the budding actor with the unique name.
Kat Monroe said: "I wanted each of my sons to have a distinct name; something that would stand out in a crowd. I looked through thousands of names before coming up with the perfect ones. I was watching TV one evening and the name of a Senator from Washington State popped up on the screen– 'Slade Gorton.' I had never heard of the name Slade and knew that was it."
Monroe is currently focused on the present.
"I love what I do and I am very thankful for the opportunity I have been given," he said. "There's a lot of motivation in being proud of what you do. Finishing this movie and doing it to the best I can is my top priority. If college is my best opportunity afterwards, then I will go back, but I am keeping my options open."
"12 Mighty Orphans" will be released nationwide in fall 2020, during football season. Get updates about the film at www.12mightyorphans.com.