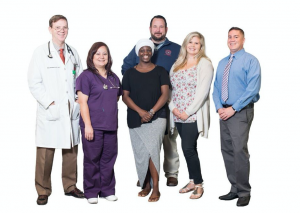 Denton County Public Health is encouraging community members to learn diabetes symptoms and implement simple lifestyle choices that lower the risk of diabetes in honor of National Diabetes Awareness Month this November.
By learning symptoms and risks of prediabetes and type 2 diabetes, you can take preventive steps to lower the likelihood of developing the disease, according to a news release from DCPH.
"Studies show that more than one in three American adults have prediabetes, but 90% do not know they have it," said Joe Paul Gallo, Disease Control and Prevention Division Director at Denton County Public Health.  "Our team focuses on case management and education around both prediabetes and type 2 diabetes to increase awareness and response here in Denton County.  By providing multiple diabetes related services and tests in a single appointment with our diabetic clients, we encourage their proactive participation in their own disease management."
DCPH recommends residents consult their doctor if they experience any of the following:
Urinate a lot, often at night
Are often very thirsty or hungry
Lose weight without trying
Feel very tired
Have blurry vision
Have sores that heal slowly
Have more infections or illnesses than usual
Have numb or tingling hands or feet
Have very dry skin
DCPH reminds residents that many preventive steps are available to lower the likelihood of developing prediabetes or type 2 diabetes. DCPH encourages residents to participate in the following preventive steps with their family or friends to help decrease risks together:
Choose to drink water instead of sweetened drinks
Eat more colorful fruits and vegetables every day
Choose fish, lean meats, and poultry without skin
Get at least 150 minutes of physical activity each week
Speak to their doctor about their diabetes risk factors, especially if they have a family history or are overweight
Visit CDC.gov/diabetes for details about symptoms, treatment and prevention. DCPH's Diabetes Education and Case Management information can be found here.