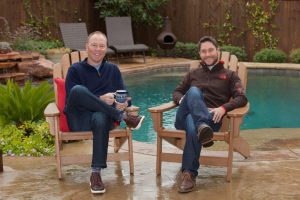 Being firmly entrenched in their day jobs has helped longtime friends John (JT) Thomas and Ryan Schroer turn their hobby into a side-hustle they hope one day becomes even more.
Since launching their subscription-based Black Mark Coffee Company a year ago, the Lantana and Flower Mound pals have been toying with roasts, based on the green coffee beans they buy from far-flung places around the world. They deliver or ship the coffee to homes and offices in the Dallas/Fort-Worth area– and beyond– from orders placed and fulfilled online.
"It's a passion-project for Ryan and me," said Thomas, a Lantana resident who works in software sales. "We enjoy serving our community, we love good coffee and love making good coffee and roasting it. If we can roast it and share with others, why the heck not?"
Thomas and Schroer have known each other for more than a decade– through church and skiing– and always liked coffee. About six years ago, Thomas began roasting coffee for himself and shared many-a-cup with Schroer, who later mentioned they should become business partners.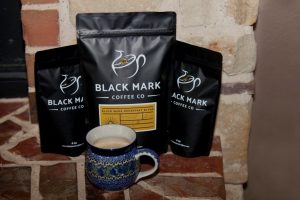 "I knew JT had been home roasting for several years," said Schroer, a senior vice president at a Flower Mound bank. "In fact, a common friend of ours had introduced me to freshly-roasted coffee about eight years ago. After that, I got my father-in-law a home coffee roaster. It was the single best Christmas present I ever got him. That really started my love for fresh roasted coffee.
"JT and I like a similar style of coffee– very smooth– and it was hard to find some around here that we liked, so we thought we'll just make our own and share it with others."
Thomas has been a business owner at heart back to his days at the University of North Texas, where he earned a Bachelor of Business Administration degree with an Entrepreneur minor. It was at UNT where the Mesquite native met his wife, Amy, a Marcus High School grad. Now married 21 years, they have sons Grant, 16, and Charlie, 11 and have lived in Lantana since 2006.
"Amy and I had thought for a long time about starting a coffee roasting business with the same model that Ryan and I started but never went through with it," Thomas said.
Schroer was born in Dallas, but raised outside St. Louis. He returned to his native state to attend Baylor University, where he met Tyler native Erica in an accounting class
"It was love at first debit," he fondly recalled.
After earning his Bachelor of Business Administration degree in Finance, he started his banking career. Married for 14 years, he and Erica have lived in Flower Mound since 2007 and have sons Ian, 8, Isaac 6 and daughter Lydia 3.
The duo, who came up with the name to honor the Flower Mound roots of the Edwin Marcus family farm in Flower Mound, became intermediate certified roasters through the Specialty Coffee Association.
They buy their beans in sacks of 65- to 130-pounds from sources in Ethiopia, Guatemala, Indonesia, Honduras and Brazil, then custom-blend and package them at their Flower Mound facility, based on customer needs and taste profile. They sell to individuals and businesses that like to serve customers premium coffee. Currently they offer four types – Breakfast Blend, Espresso, Single Origin and Decaf.
After launching the business a year ago, they made their first major sale in August and since then have received excellent feedback from people enjoying fresh roasted coffee for the first time. Their reputation has even spread as far away as Oregon, Illinois and Georgia.
"Some have said it absolutely changed their world and experienced coffee lovers really appreciate our roasting style and what we bring in terms of quality," Schroer said.
Thomas said he knows of four or five other roasters in the area, who mostly purchase less-expensive and lower-rated beans, while he and Schroer go a different route.
"We believe if you start with really good green beans, you end up with a better product," Thomas said noting Black Mark only buys the highest-rated variety. He added that most coffees reach their peak 5-7 days after roasting.
Roasting the beans is both an art and a science. The temperature of the beans has to be watched very closely throughout the process. Each bean variety is different.
"We roast mostly on Sunday afternoons and time the products to arrive at their doors by Thursday or Friday," he said.
Subscriptions are based on type of blend and quantity desired (typically one- to eight-bags) and are delivered monthly. For example, one 12-ounce bag of Breakfast Blend runs $15.95 a month, while others range up to $18.95 for one bag, with volume discounts for larger qualities.
While Thomas and Schroer don't have any retail outlets right now, it is something they would consider in the future. In the meantime, they will continue serving the community with their unique blend of fresh roasted coffees.
Visit Black Mark Coffee Company at blackmarkcoffee.com.