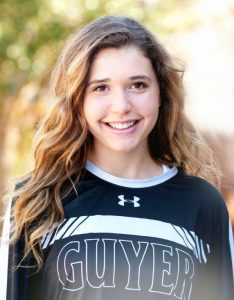 Mariella Stephens is much more than just a talented athlete.
A four-year varsity letterman for both the soccer and cross country teams at Guyer, Stephens loves competition.
But, the Lantana teen is also part of an organization called Project Adoption– which is all about giving back– that she participates in through her student council.
"We give kids who are less fortunate a Christmas that they deserve," Stephens said. "We organize and assign the children to different classes throughout the school. The students at Guyer bring them gifts and throw a fun Christmas party for them, where the children open their gifts in front of the students so they can share in the excitement and happiness alongside the kids. It is such an amazing and rewarding event to be part of, as it gives the students at Guyer a chance to give back to the community and give the children a Christmas they'll never forget."
Stephens, 17, also plays the cello in the orchestra at Guyer High School and is a member of the English Honor society.
The Lantana teen said she likes being involved, because it gives her balance in life.
"It gives me an opportunity to pursue a variety of my interests and allows me to become a more well-rounded person, by exposing me to many unique and different people and ideas," Stephens said.
The Guyer senior said one of the great things about GHS is the fact that it has something for every student at her school.
"It has a place for everyone and gives the opportunity to find and pursue your passions, which enable you to grow into the person you were made to become," Stephens said. "This would not be possible without the amazing staff at Guyer. All the teachers are really involved and supportive of the students and there's a real sense of family among the student body. It's been an honor to represent Guyer within the community and on the athletic field. I've loved my time at Guyer and have made so many great relationships and memories that I will always cherish."
Stephens carries a 4.4 weighted grade point average and plans to attend the University of Arkansas at Little Rock to play D1 soccer and major in speech pathology.
Stephens' Favorites
Favorite Subject: History
Person who most inspires you: My parents
Favorite Food: Anything Italian (or dessert!)
Favorite Movie: The Notebook, The Great Gatsby
Favorite TV Show: This Is Us
Last Book Read: The Kite Runner
Favorite Musical Group or Performer: U2, Coldplay, Dan+Shay, The 1975
Nominate your favorite high school student for this monthly feature brought to you by Texas Health Presbyterian Hospital Flower Mound by emailing [email protected].