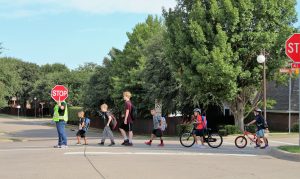 The Flower Mound Police Department will take over school crossing guard services on  Wednesday.
All 62 crossing guard sites covering 22 Flower Mound schools are fully staffed, with at least one experienced crossing guard at each site, according to a news release from the police department. During the first week, there will be four Flower Mound officers and four trained police civilian employees available to assist staff and provide oversight, if needed.
In August, the Flower Mound Town Council voted 3-2 to shift crossing guard duties from an outside vendor, All City Management Services, back to the police department. The council's decision was to cancel the contract effective Jan. 1, but the ACMS contract only provides a 90-day contract termination notice, so the effective transition date was moved up to Nov. 6.
To view an interactive crossing guard site map, click here and click on "Layer List." For more information, contact [email protected] or call 972-874-3380.