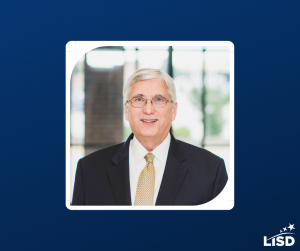 Texas Governor Greg Abbott announced late last month the appointment of Lewisville ISD Chief Financial Officer Michael Ball of Argyle to the Teacher Retirement System of Texas Board of Trustees.
The TRS Board of Trustees manages retirement and other benefits for teachers and employees of the state's public schools and institutions of higher education, according to a news release from LISD.
"It is a great privilege to have the opportunity to serve Texas educators as a member of the Teacher Retirement System of Texas Board of Trustees," Ball said. "Teachers have made a significant impact on my life, so I am honored at this chance to serve them."
Also appointed to the TRS Board was San Antonio-area attorney Robert "Rob" Hamilton Wells, Jr., and Allegiance Bank Office President David Corpus. Ball will serve in one of the two positions reserved by state law for an individual who is currently employed by a public school district, charter school or regional education service center. He participated in a nomination and election process, according to the district.
Ball, who is a native of Northeast Texas, has 37 years of experience in Texas public school finance. He has worked in LISD since the 2015-2016 school year, providing leadership for development and administration of budgets totaling more than $625,000,000 annually. He is a member of the Texas Society of CPAs and Government Finance Officers Association, Ball volunteers for the Lewisville Noon Rotary Club, United Way of Denton County and Stilwell Retirement Home.
Ball earned a Bachelor of Business Administration in accounting from Texas A&M University-Commerce and a Master of Business Administration from Sam Houston State University. He is a Certified Public Accountant and holds memberships with the Texas Association of School Business Officials, Texas Association of School Administrators, Texas Society of Certified Public Accountants, American Institute of Certified Public Accountants and Association of School Business Officials International. Ball has been married to his wife, Janet, for 40 years, and they have two adult daughters and three grandsons.
Ball's term is set to last until Aug. 31, 2025.