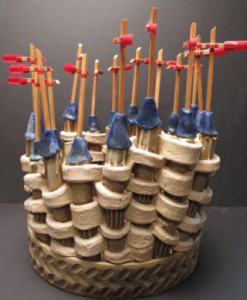 By Dianne Hicks
Members of the Cross Timbers Artists Guild are showcasing their studios and artwork as part of their 18th Annual Artists Studio Tour.
The tour and reception is free and open to the public, allowing interaction with local artists, to get to know them, to observe the creative process – In Their Studio, and to create a sense of community among area artists, their neighbors, and the local businesses that support the arts.
Since the first tour in 2002, the organization has grown from 6 charter artists to 26 in this year's studio tour – including new artists – which expands the group's wide range of disciplines such as painting, sculpture, ceramics, jewelry, clay, glass, fiber, furniture and even musical instruments.
These artists live and create their unique artwork right here in the Cross Timbers region of North Texas including: Argyle, Copper Canyon, Double Oak, Flower Mound, Highland Village, Lewisville and others.
Many artists on the tour will also have demonstrations and hands-on activities for public participation.
Providing a platform for art education in a neighborhood setting, each artist looks forward to sharing their art, knowledge, and talent with their communities.
Opening Reception:
Friday, Nov. 8, 7 p.m.
Art House, 6100 Long Prairie Road, Highland Village
Artists Studio Tour:
Saturday, Nov. 9, 10 a.m. to 5 p.m.
Sunday, Nov. 10, noon to 5 p.m.
For further information and a map of the locations of the artists on tour, visit the Cross Timbers Artists Guild website at: www.crosstimbersarts.com. Or, from your smart device, type ctagmobile.com, click on the address of the artist and instantly navigate to Google Maps.
NEW THIS YEAR:
Several artists will be "dropping" small works of art at secret locations within Cross Timbers region communities to create excitement prior to the Tour.
On November 1, in advance of the group's Public Studio Tour, many CTAG artists have created miniature versions of their art and will place individual pieces in public spaces around Flower Mound, Lewisville and Highland Village, TX to be found by lucky area residents. These FREE works of art with values up to $200 will include tiny paintings, miniature collages, mixed media pieces, small sculptures and functional works of art.
In order to find the free art, treasure seekers can search for clues on the Cross Timbers Artist Guild's Facebook page, Instagram ctaqstudio tour and via Twitter by searching #CTAGTreasureHunt.
Lucky finders are encouraged to post pictures of their treasures on social media with the hashtag: #CTAGTreasureHunt, #ctagstudiotour, and crosstimbersartiststudiotour.
Follow Cross Timbers Artists Studio Tour on Facebook to learn the Drop Date and possible clues.
ARTIST SPOTLIGHT: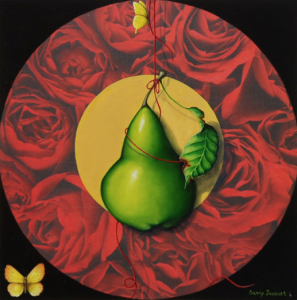 Sunny Jacquet – Fine art painter
Sunny Jacquet immigrated to the United States from Seoul Korea in the 1980's to pursue her dreams and passion for art. Her travels throughout Asia and Europe have inspired her paintings, which combine Trompe l'oeil and classical artistic techniques with surreal settings of still life objects. These artworks convey a delicate mix of contemporary and traditional techniques that deal with tension between the real and unreal. Sunny was honored to be selected for one of the "New Dallas Nine" awards at the D-art slam show sponsored by D-Magazine.
Eric Orr – Pottery & Sculpture
Eric Orr – a long-time member of the Guild – loves the immediate and personal involvement with his media of choice: Clay! Through his sense of touch, and knowing that what he creates can be functional or merely expressive, and can last for generations, is both significant and exciting. Eric's sense of humor comes out in many of his pieces!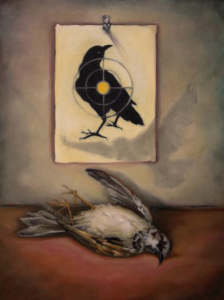 Eilene Carver – Painting & Drawing
Eilene Carver primarily expresses herself through still-lifes with an intimate iconography which has evolved from objects that have imprinted her through life experiences. They form the visual vocabulary for narrative in her work; to symbolically express observations of human nature and society. Eilene was recently featured on WFAA TV as a Community Interest Story.