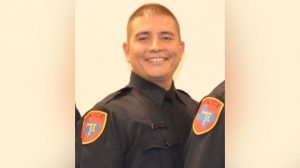 The Denton police officer who was shot early this week during a traffic stop remains in critical but stable condition Thursday after having two surgeries.
Just after midnight on Tuesday morning, Officer Urbano Rodriguez Jr. conducted a traffic stop in the 1800 block of West University Drive for a vehicle equipment violation. Someone in the suspect vehicle shot at him, and the backup officer, Randy Cole, returned fire, according to the Denton Police Department.
The suspect vehicle was later located by police in Carrollton and Farmers Branch, and after a pursuit, the two suspects were apprehended and taken to a nearby hospital with gunshot wounds to their arms, according to Denton police.
Rodriguez was rushed to the hospital with two gunshot wounds, one to the head and one to the femur. He has undergone two successful surgeries and remains in critical but stable condition, according to Denton police.
The 100 Club of Denton is coordinating all donations for Officer Rodriguez and his family. Click here to donate.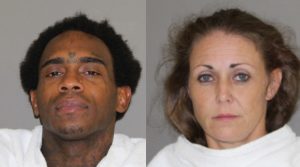 The suspects have been identified as 33-year-old Antwon Pinkston of Fort Worth and 44-year-old Michele Stacey of Denton. They were medically cleared and taken to Denton County Jail, where Pinkston was charged with attempted capital murder of a peace officer and his bail set at $5 million. Stacey was held on a parole violation.
The Texas Rangers are leading the investigation, with the assistance of the Denton police Major Crimes Unit.