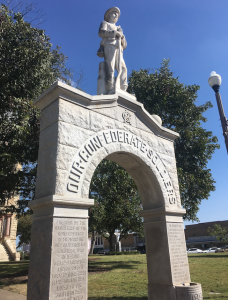 Denton County will hold several public input meetings to gather suggestions for how to add historical context — to tell the complete story about slavery — to its Confederate Memorial outside the Denton County Courthouse-on-the-Square.
In November 2018, the Denton County Confederate Memorial Advisory Committee unanimously voted to keep the Confederate Memorial "and add historical context to tell the complete story about slavery," according to a news release from the county.
Now, the county Art Committee is planning a listening tour over the next several weeks around the county. The meetings are intended for residents to share their ideas for a proposed sculpture or other artistic element, a historical statement etched in stone and information for kiosks to be installed on the Courthouse-on-the-Square lawn, alongside the memorial.
The Denton County Courthouse-on-the-Square Art Committee listening tour will take place at the following times, dates and locations:
Monday, Nov. 4, from 7-8 p.m. at the Stephen E. Copeland Government Center, 1400 FM 424 in Cross Roads
Tuesday, Nov. 12, from 7-8 p.m. at the Lewisville – Precinct 3 Government Center at 400 N. Valley Parkway in Lewisville
Monday, Nov. 18, from 7-9 p.m. at the MLK Jr. Recreation Center at 1300 Wilson St. in Denton
Monday, Dec. 2, from 7-8 p.m. at the Southwest Courthouse at 6400 Canyon Falls in Flower Mound
Guests will have three minutes each to share ideas to the art committee, which will take all suggestions into consideration in making a final proposal to the Denton County Commissioners Court, according to the county. Those who cannot attend the meetings are invited to submit suggestions to [email protected].
Information about the committees and the memorial is available at https://confederatememorial.dentoncounty.gov/.