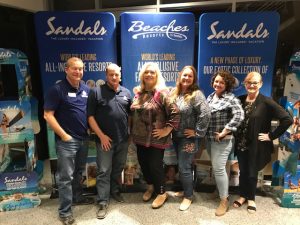 Certified Sandals Specialist Tom Muench, Katie Whitten, Benita Nesby, Chris Chelette, Chris Sifuentes, Jeff Bartlett & Laura Rauhauser of Expedia CruiseShipCenters Flower Mound have successfully completed TAKE THE KEYS AND LOCK IT IN, the latest travel agent workshop offered at Sandals Resorts, and is now fully prepared to share the most exciting reasons to visit the Caribbean's leading Luxury Included resorts with travelers.
According to Muench, the immersive workshop covered all that's new and exciting across Sandals Resorts International's family of brands that include adult couples-only Sandals Resorts; family-friendly Beaches Resorts; and partners at Island Routes Caribbean Adventures for fun excursions in the Caribbean – which is a critical opportunity to gain firsthand knowledge of these distinct brands.
"From the opening of Sandals Royal Barbados, Sandals' second luxury resort in Barbados, to Sandals Customizable Weddings, which serves as the brand's destination wedding program, to Beaches Resorts' groundbreaking Advanced Certified Autism Centers, travelers can be confident that my counsel is informed and expert," Muench said.
Muench and his team are Certified Sandals Specialists, part of an elite group of travel agents recognized by the travel industry as experts in the world's only Luxury Included Resorts. TAKE THE KEYS AND LOCK IT IN fulfills the crucial educational requirement for travel agents pursuing their Certified Sandals Specialist designation.
"We applaud Expedia CruiseShipCenters Flower Mound on this tremendous accomplishment. CSS agents are uniquely qualified to help travelers select their best Caribbean vacation, and it is a sincere pleasure to recognize Expedia CruiseShipCenters for their dedication to serving their clients so well," said Gary Sadler, Senior Vice President of Sales for North America at Unique Vacations, Inc., an affiliate of the worldwide representatives for Sandals Resorts and Beaches Resorts.