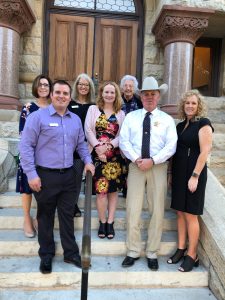 The Denton County Sheriff's Office donated this week $25,000 from seizure funds to Court Appointed Special Advocates for Children of Denton County, a local agency that serves abused and neglected children in foster care with volunteer advocates.
CASA will use the funds to support its much-needed growth in the coming year, when the number of children in foster care from Denton County is expected to continue to rise, according to a news release from CASA of Denton County. With the huge population increase in Denton County, the agency is seeing more demand for volunteers to serve as a child's voice in court. Last year, the organization served 534 children in foster care.
"This gift will be a huge help to CASA in the coming months as we must expand our staff, and recruit and train more volunteers than ever to find a way to serve every child who needs us," said Debbie Jensen, executive director for CASA. "We are so thankful to Sheriff Murphree for recognizing the good work our volunteers do for the community as they become a lifeline for its most vulnerable children."
For more information about CASA of Denton County, go to www.casadenton.org.