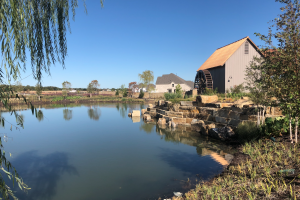 A grocer is in "final negotiations" to open a new store in the Waterbrook development in Argyle.
Terra Manna founder Bret Pedigo said last week that the discussions with a grocer have been ongoing for at least six months, but he is not yet able to announce the name of the store. He said the plan being finalized is a "very specialized concept, very unique in the marketplace and one of the first of its kind in DFW."
Waterbrook is a 105-acre development– with 287 residential lots and 191,000-square-feet of commercial and retail space — located in the southeast corner of FM 407 and Hwy 377 that was approved by Argyle Town Council in April 2016. Construction on the some of the houses has begun.
Waterbrook was originally only going to have one home builder, CalAtlantic, which was bought last year by Lennar Homes. Lennar "will have a harder time doing diverse products in Waterbrook," so other builders, including Coventry Homes, are being added, Pedigo said.
Pedigo also said some commercial pad sites in Waterbrook have been sold with plans to build medical offices, retail space and professional offices, but those plans are still in the early stages. A sit-down restaurant concept is also under contract.