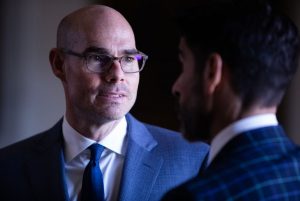 The Double Oak Town Council approved Monday night a resolution calling on Texas House Speaker Dennis Bonnen to resign.
The council unanimously voted in favor of the resolution, which was prepared and presented by Mayor Mike Donnelly and reads: "Double Oak is proud to have Representative Tan Parker as our Texas House member. I join Representative Parker and Denton County Judge Andy Eads in calling for Speaker Dennis Bonnen to resign as Speaker of the Texas House."
In a meeting with conservative activist Michael Quinn Sullivan, Bonnen was secretly recorded suggesting Sullivan's political group, Empower Texans, target 10 Republican incumbents in the 2020 primaries, according to the Texas Tribune. That recording was released late last week, and since then a growing number of local officials and House Republicans and Democrats have called for his resignation.
Bonnen announced Tuesday morning that he would not seek re-election, but appears to intend to not resign before then.