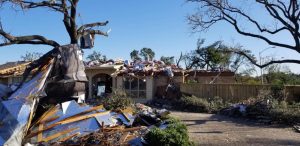 The Flower Mound Fire Department was called to assess damage from the recent tornado in Dallas.
FMFD's Emergency Management Division was deployed Monday to assist with damage assessment after the EF3 tornado ripped through a densely populated area of North Dallas on Sunday night. No one was killed, but there was a lot of property damage as trees were downed and uprooted and blown into houses and storefronts were torn off, according to the Associated Press.
EF3 tornados have a maximum wind speed of 140 mph, according to the National Weather Service.