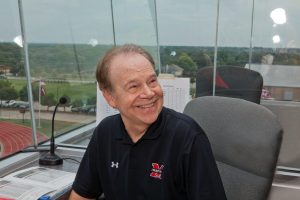 Bill Lee clearly remembers how he got the job that, for the past 10 years, has combined his love of football, Marcus High School and broadcasting.
It was nearing the end of construction of Marauder Stadium and he wondered if the school would need someone to handle the public address system. So, he contacted then Principal Gary Schafferman.
"I would pass by here on Morriss [Road] every morning, while this stadium was being built and I emailed Gary and said: 'I don't know if anyone is in the running for that. If they're not, I used to do a lot of voiceover work– and I would do some of the Little League games around here– and would like to help you with that,' " Lee said.
Shafferman quickly called him back to tell him his timing was perfect and to come in for a personal audition. Lee obviously made quite an impression, as he was quickly hired. That was in 2010 and he's been enjoying every minute ever since.
"I love this school, I love the players, I love the District and I love this team," said Lee, the Lewisville Independent School District's director of marketing. "The only thing I don't like is there's basically only five home games a year. It goes so fast."
Lee and wife Lila are Houston natives and Texas A&M University graduates, who moved to North Texas in 1982, after spending a short time in San Antonio. They have lived in Flower Mound since 2014, after many years in Highland Village.
He gained much of his love of Friday night high school football, when sons Jared, Jonathan, Jordan, and Joshua played at Marcus.
Jonathan, a former teacher and volunteer coach at Marcus, was on the 1997 state title team. He is in his second year as head girls' basketball coach at the new Frisco Lebanon Trail High School, after six years at Lake Dallas, with his father announcing at both places.
To learn how to do the job, Lee spent time from 2010-2013 at college games to hear other announcer styles.
"My goal is not to be noticed, because if I'm not noticed I've done a good job," he said. "It's not good to say too much or not enough. Tell them the story the best you can.
"And, you have to understand you are not the radio broadcaster. You are calling a game; the people in the stands are watching the same game you are."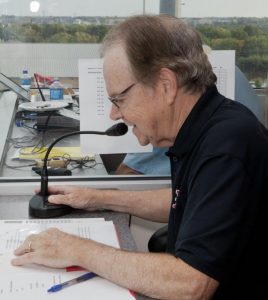 Lee starts his preparation the Monday before the game, by contacting visiting schools' coaches and booster clubs to learn about their players and seeking phonetic spellings of names.
He also works with Marcus personnel related to cheerleader names and sponsors. He highlights names on the two-deep roster provided by both Marcus and visiting school coaches.
"I know, as a parent after watching so many games, there's nothing more frustrating than an announcer butchering your kid's name," Lee said. "So, I always said, if I ever have an opportunity to this, I'm going to do whatever I can not to do that."
Once the game starts, not only does Lee control the game calls, he's also in charge if there's a weather situation or emergency in the stands.
"We play a very important role and I take that very seriously," he said.
He uses three manuals: one with a playlist showing the announcements and time each must be made, starting 30-minutes before each game; another listing the commercials to be read; and, the third is all about the players.
"I talk to the coaches before the season and spend time on the field and learn as much as I can about the players and the names," he said. "My goal is to look at the play developing and tell who the ball carrier is."
To help him get plays right, he utilizes students to serve as spotters. On opening night this year, he was busy training his new left-hand man, Chris Elias.
"Another thing I do differently than some announcers, is I really try to respect the visiting team," he said." Even though I am a 'homer' and you can hear it in my voice, I'll get excited on touchdowns. But, I try not to rub it in like I've heard from some announcers."
Lee "retired" two years ago, after co-owning a television/film production company. Before that he co-founded Hot-On Homes, a multi-media concept for the new home industry, following 20+ years in marketing and training/development in the telecom industry.
He spent his first year with LISD's incubator program, where he recruited coaches and mentors for the business entrepreneur program. He also made business presentations to all five high schools. And, since February, he has served as the District's director of marketing.
Lee said the weirdest moment happened about three years ago, when someone living near the stadium filed a noise complaint against the Town of Flower Mound. But, even something like that hasn't dampened his enthusiasm for his second, but most favorite job.
"One thing about this is, I can be as prepared as I possibly can be and I'm still not totally prepared," he said. "The coach and all the directors have my cell phone and I'll be literally on the air and my phone is going crazy hectic.
"The coaches may be saying 'we've got this going on. We've got that going on.' I look forward to the kickoff because then it's all about ball carriers and defenders."