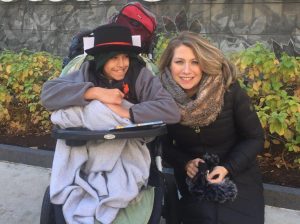 "We knew in utero that he had health problems," said Flower Mound resident Hanna Mehta about one of her triplet sons, Aiden. "The three boys were delivered at 29 weeks by C-section. He spent six-and-a-half-months in the ICU and then the remainder of his first year in pediatric emergency. After that, the Dallas doctors just threw up their hands and said they couldn't do anything else for him."
Her son's complex medical condition was the genesis for her research to find answers that medical providers weren't able to diagnose. She discovered that she and her family weren't alone in having a medically-fragile child. Eventually, she was directed to a medical team at Boston's Children's Hospital.
"Aiden was diagnosed with a number of secondary conditions– including an aero-digestive disorder and chronic lung disease– but the Boston team was able to diagnose hypogammaglobulinemia, an immune system dysfunction affecting multiple organ systems," said Mehta. "We use homebound services with respiratory and digestive therapy to help keep him active."
Protect TX Fragile Kids (PTFK) was founded and run by parents of medically-fragile Texas children in May 2016.
That was the year Texas implemented the STAR Kids Managed Care Program, which forces children with complex medical needs and disabilities into highly restrictive, county-based service areas, without heed to pediatric specialty centers. It also turns these children's care over to private entities with conflicting interests rooted in profitability, which limits access to appropriate care.
"One of the things that we all love most about our community and our state is the way that Texans reach out and care for each other as good neighbors," said Mehta, executive director of PTFK. "Families caring for a child with complex medical needs and disabilities need a little extra support as they struggle to keep their child alive and at home; and their family together."
"The underlying problem is that Texas used to have a really good system under [President] Reagan's push to keep children out of institutions, but that's no longer the case," said Mehta.
In November 2016, changes to the state's Medically Dependent Children Program — which provided aid for children whose maladies are so extreme that they require 'round-the-clock "nursing-facility level" care– resulted in widespread problems.
Texas is currently ranked 49th out of 50 states for providing access to the critical home- and community-based supports necessary for children with disabilities to remain in the community.
In years' past, medically-fragile children had to remain in hospitals and institutions, due to the nursing-level care requirements and significant daily medical interventions required to keep them alive.
"Aiden and his brothers– Ethan and Evan– just turned 12," said Mehta. "There's never a dull moment. As seventh-graders at Coram Deo Academy, Ethan and Evan are playing football this year. And, as delayed as Aiden is, they're that advanced. His brothers have always treated Aiden as just a brother and include him in anything he's able to do when he's able to do it."
Not too long ago–if they survived–children with complex medical needs and special needs of all types were placed in institutions, segregated away from their families and society and, in many cases, subject to horrific abuse and neglect.
Today, the overwhelming majority of medically fragile children rely on what is known as "Waiver Programs" in order to be able to stay at home, with their families, rather than residing in hospitals and institutions.
Waiver Programs allow children to qualify for Medicaid, based on their medical needs, thereby allowing families to provide a hospital-level of care in the home, increasing the child's quality of life and delivering enormous cost savings to the state.
Waiver programs do not mean that families are not providing for their children, but that the care and needs of a medically-complex child are so great that families are unable to provide for their vast medical needs through private commercial insurance alone.
"Many of our families have experienced or faced medical bankruptcy trying to provide for their child's medical needs," said Mehta. "The challenge is when you get down to the Texas legislature and how hard it is when they only meet every two years."
Families of medically-fragile children should be empowered to work with their existing care teams and make their own decisions in the best interests of their child's health.
"Today, we know that– while living with disabilities may require some additional accommodations and supports to remain at home– those living with disabilities are an integral and important part of their community," said Mehta.
Most people don't realize there's a whole world out there where people are struggling to keep their family together.
"We are dedicated to advocating on behalf of the best interests of vulnerable, sick little Texans, who have no voice and desperately need someone to speak on their behalf and defend their interests," said Mehta. "For families who find themselves in the position of caring for a medically fragile child, there are very limited options. "
She added that statistics show that, at some point, this will likely be someone in a family. The inability to access appropriate care in a timely manner for medically-complex children results in life or death situations.  The lives of these fragile children do not have any margin for error.
"The first and most important function of government is to protect life," said Mehta. "Texas can– and must– do better to ensure that this is a priority for our state in every way."
She singled out State Rep. Tan Parker, Rep. Matt Krause, Rep. Sarah Davis, Rep. Jeff Leach, Speaker Dennis Bonnen, State Senator Charles Perry, and Senator Lois Kolkhorst, as elected officials who have been champions for medically-fragile children and helped to lead the way in the Texas Legislature over the past three-years trying to improve Texas policies and priorities.
There is still much work to be done, she said. People can help by reaching out to state legislators, or volunteering to get involved at txfragilekids.org.