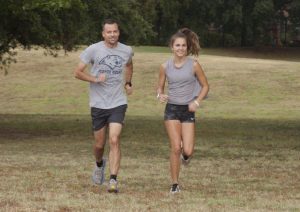 For Flower Mound sophomore Natalie Cook, distance running is a family tradition.
The daughter of Flower Mound High School cross country coach Andrew Cook, Natalie placed fifth last year at the State cross country meet and followed that up with top 10 performances in the 3,200 and 1,600 events at the State Track and Field meet.
Cook was actually sick at Regionals in cross country last year and almost quit, but persevered, and finished out strong so that the Jaguars Cross Country team could qualify for State, as well.
Andrew Cook said his daughter works hard to be one of the top runners in the state and said he believes it is his job to ensure that she continues to trust in the system that got her there.
"We talk a lot about focusing on the process and having good workouts, which will, hopefully, lead to good races," Andrew Cook said. "She was very consistent last year in her training and that fortunately led to a top five finish in cross country and two State medals in track. Even if she hadn't reached that level of success, I was very proud of her for working hard each day and being a positive member of our team."
Andrew said the relationship between him and his daughter has grown closer through the sport of cross country, but said it is not without its difficulties at times.
"Practices are relatively easy and I feel we are able to work well together," Coach Cook said. "Natalie understands that if I'm trying to push her, it's because I want her to improve as an athlete. Meets were tough at first, because I had the usual nerves about our team performing well; and, then you factor in having your own kid out there on the course."
Natalie Cook said she got started with distance running through summer track and being part of the NTX Road Warriors Running Club.
The Flower Mound teen said that having her father as the head coach is enjoyable… most of the time.
"I like how we have a good relationship and can communicate about my running," Cook said. "But sometimes he can embarrass me with his corny jokes."
Natalie, 16, played basketball and soccer in middle school, but has focused on cross country and track and field since entering Flower Mound High School.
She said that finishing fifth at state last season in cross country is something that makes her feel very proud.
"It was pretty exciting," she said. "I felt good and I hope to be a medal-contender this year."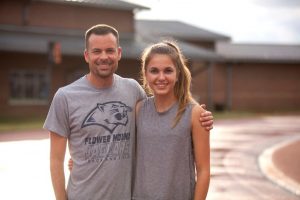 Cook said her team goal is to win a State title in cross country and improve upon their state finish from last year. In addition, her personal goal is to win a State title and improve her times in track events.
One runner who will present a challenge to the Flower Mound sophomore's aspirations this season is Guyer's Brynn Brown, who finished second at the State meet last year.
Cook downplayed any kind of rivalry that may exist between the two southern Denton County runners, but said she does like competing with Brown.
"I enjoyed running with her during track season, as she helped push me to new PR's [personal records]," Cook said.
Coach Cook shared his daughter's sentiments and also believes it is beneficial to have a runner of Brown's caliber so close.
"I wouldn't call it a rivalry, but I'm thankful Natalie has someone like Brynn in our area to compete against in races," he said. "I feel that will only help her to run faster and prepare for bigger races in the future."
He said the objectives for Natalie this season are to stay healthy, focus on the process and help the team place first at State.
Cook herself said she is in a good place at the moment and said her expectations are pretty clear to her.
"I am happy to see the team running well," she said. "For myself, I would like to keep improving each week and have my best race at State."