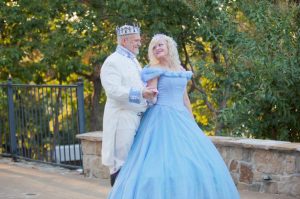 "Yes," Ray David, Jr., president of wholly-local PointBank said, "G. A. Moore was my high school football coach."
David played defensive tackle at Pilot Point High School for one of Texas' most remarkable coaches, without fitting a lumbering 300-pound stereotype.
"I wasn't big, but I was fast," he said.
It turned out he was also good at executing Moore's famous trick plays, so his proverbial back-pocket was stuffed with a winning combination of talents.
"I was interested in theater, but football dominated my high school years," said David.
By participating in junior high school variety shows, he had started what would turn out to be a lifetime love affair with the world of costumes.
After graduation, David went on to receive a Bachelor's Degree in Accounting at the University of North Texas; back then North Texas State University.
"I was in a fraternity that staged a musical revue every year," he said.
David indulged his theatrical love at that time, then received his degree, before becoming a forensic accountant in Houston.
After a disaster generates an expensive claim, insurance companies employ forensic accountants. The accountant hits the ground running to create an audit trail that, (1) keeps reconstruction orderly and (2) is used when a court must decide if the loss is actually coverable.
"Hollywood made a comic con-man movie about one of my cases. 'I Love You Phillip Morris,' starring Jim Carrey and Ewan McGregor. Unfortunately for fans of the silver screen, David wasn't written into the script, so he missed his true-calling as a nattily costumed, tall, dark and handsome heartthrob.
"But, I was the guy who untangled the real-life problems created by a man who "borrowed," then invested prodigious amounts of other people's cash, then paid-back the original capital– but kept the profit– which came to a series of very tidy sums."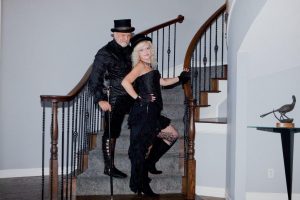 The insured called the shenanigans embezzlement, but the perpetrator argued to the contrary.
During his years in Houston, David encountered the world of Renaissance Festivals. It's a total immersion experience.
"I was fascinated to learn you could attend as a participant," he said. "Each day of a festival has a different theme. You choose when to attend, then costume accordingly.
"I discovered eBay's costume market that traffics in clothing designed for big-budget historical period films like, say Cleopatra and television productions like the Civil War miniseries. I have a terrific Roman legionnaire's costume that didn't come with the sword; which I found by itself."
The challenge is getting a costume's finishing touches. David's bill for one authentic getup can run to maybe $1,000.
How many costumes are in his inventory? He stops to think then admits, "My costume closet is a single car garage full of racks and shelves."
Several years ago, David "went native," so to speak, by getting married at the very same Scarborough Faire. He decked-out as King Poseidon, while his bride, Heidi, a woman of spectacular sewing skills, appeared as the mermaid bride.
If you ask nicely David will show you his wedding photo on his phone. See if you don't agree the couple look every inch the romantic mythological oceanic majesties.
"That's my absolute favorite pair of costumes," he said.
His dream job after college had been a career in banking, "but the year I graduated, 1989, the stock market surprised everyone by crashing and taking interest rates and the loan business through the floor with it."
At the time, his father, J. Raymond David, Sr. was the president and CEO of PointBank.
In 1999, David, Jr. returned to North Texas as PointBank's senior lending officer. He became president in 2004, then quintupled the bank's worth.
"Banks valued under a billion dollars are classified as community banks," he explained. "Above that, they become 'regional banks,' then 'big banks.' PointBank, with its nine branches in the area, is a community bank with all the good things that entails."
Those good things include lots of community involvement. In Ray David's case that means costumed fun.
"I like Halloween, of course, and Denton's Day of the Dead is a lot of fun," he said.
So, what is the local community banker doing for the upcoming Halloween?
"My wife Heidi will be Cinderella, and I will be her Prince Charming."
Heidi said she started sewing during her childhood in South Africa, then continued to develop the skill during adulthood in England and Texas.
"I didn't think about costume design and construction until I met Ray," she said.
It's been all systems go since then. Her blue ball gown, like the one in the recent Disney film, has a crinoline underskirt with net-mounted holiday lights that sparkle as she swishes alongside the prince.
"I installed tiny LED lights in the bodice neckline," she revealed. "Ray's embroidered military dress coat is also configured with tiny lights."
The glass slippers are a creative work of engineering. She purchased many hundreds of tiny Swarovski crystals which are individually affixed to the princess's footgear.
Frequently in costume, the couple attends charity events and costume contests.
"Small local charities have a crying need for experienced businessmen on their boards, so we community bankers cheerfully pitch in our time and energy," David said. "Giving back to the local community is one pleasurable part of the life of a community banker."
So, besides kings and princes what other costumes does David use?
"I have a terrific White Rabbit get-up for 'Alice in Wonderland,'" he said.
He also has been known to give Santa a hand as the Jolly Elf's double at Christmas events. That latter role requires some advanced planning as he has to grow out his white beard.
He and Heidi have taken a liking to time-travel fests that include "steam punk;" a lively combination flavored by Jules Verne prim-and-proper Victorian bowler hat-types and their Gibson Girl fantasies; and, of course, faraway times and places.
"I think my most famous costume accessory is Dwayne Johnson's club from the film about Hercules, the Roman/Greek strong man who had to perform 12 spectacular feats. He used it to dispatch the film's bad guy."
(The mythological spoiler is that the baddie, a Centaur named Nessus, ultimately does Hercules in from beyond the grave.) The Hollywood club is, in fact, a triumph of the nerf foam art; and we're all glad Dwayne Johnson came out on top using it.
In daily life, David appears at the office wearing three-piece business suits, white dress shirts, bowties and timepieces from his pocket watch collection.
"I collect antique, vintage, contemporary and novelty pocket watches," he confessed.
One favorite has Superman's personal logo in high relief on its cover. The oldest one is from the 1890s, a relic of railroad glory days.
"They're great conversation pieces," he said.
The old-fashioned watches are a perfect accompaniment for his silk bowties; a modern fashion item which was invented by Croatian mercenary soldiers during the 30 Years War in the 1600s. Back in the old days, today's dapper accessory kept shirt necks closed during hand-to-hand combat. Talk about enduring clothing!
Many bowtie aficionados claim they unleash a man's inner James Bond and give vent to his daredevil side. We'll settle for a display of confidence and a quirky fashion touch.
Ray looks every inch a conservative banker.
As a man of faith– whose not-surprising favorite piece of advice, for anyone who cares to ask– comes from the pages of the King James translation of the Old Testament, Ecclesiastes 3:12. He whole-heartedly agrees with the ancient writer who said humans profit most from rejoicing in God's beautiful works and doing good in their lives.