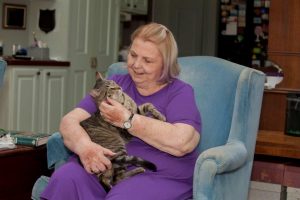 After a certain glorious point in life, a person achieves "senior" status in the community. The burning question becomes whether, as The Bard might say: "tis nobler to lie about one's age or brag thereon."
Next year, Flower Mound's own Carol Kohankie will blow out 80 candles on ye olde birthday cake– and anyone who thinks this particular "senior" is in slow-down mode is quite mistaken.
The desk in her high-ceiling front room on Lauren Way is a study in skyscraper stacks of paper that make her laugh aloud.
"A clean desk," she declares, "is the sign of an idle mind."
This Texas transplant is an unabashed Yankee, a Mayflower Descendant and a Daughter of The American Revolution born in New London, Connecticut, and reared in the nearby seaport town of Mystic, Connecticut.
"Appropriate to the town name, my mother had the uncanny ability to frequently know about things before they happened," said Kohankie. She makes no ESP claims for herself.
"Even though I have lived in Flower Mound since 1981, I would never presume to be a native Texan, but do admire and respect our County Judge Andy Eads, because his family goes back five generations in Denton County!"
Home from college one summer she coordinated responses to fan mail for writer Captain Edward "Ned" Beach, following his skippering of the USS Triton on its circumnavigation of the globe. He was the World War II submarine officer who wrote the page-turning submarine warfare novel Run Silent, Run Deep.
The story is about a pair of dueling subs in the same pool-of-ocean on opposite sides of the war. Would it be trite to say the white-knuckle ending will "blow you out of the water?" There is definitely a reason why Beach needed help with his fan mail.
But we digress…
"I grew up in a house built in 1834 by a man who made his living manufacturing wheelbarrows for the California gold rush."
The two-story, white clapboard building with black shutters still overlooks the Mystic waterfront today. If you squint and stare long enough, you will swear you see Captain Ahab and Queequeg's ghosts coming and going on the property.
"I went to high school directly across the street from the U.S. Coast Guard Academy," said Kohankie. "In those days, midshipmen didn't have vehicles and they had a curfew, so my parents thought they made the perfect dates for a teen daughter."
After an idyllic New England childhood, she completed a Bachelor of Fine Arts in Textile Design at Moore College of Art and Design in Philadelphia. During the summer, she worked in her field and two of her fabric designs were featured in Good Housekeeping and House and Garden magazines.
She interrupted school in 1962 to complete a travel grant from the Philadelphia Branch of the English Speaking Union. She stayed with 12 families in six weeks and one of the families had a pew in the Windsor Park Royal Chapel, which is the private chapel for the Queen. She worshiped privately with Queen Elizabeth and her Prince. The regal couple didn't speak to the guests, but: "I can still tell you what she was wearing," Kohankie said.
Her first professional job was designing sweaters at a factory in industrial Philadelphia.
"The hours were late-into-the-night and I always walked alone to the trolley." she remembered. "When I finally 'roused sufficient pluck' to ask for a raise, they fired me. My parents suggested I return home to pursue acquiring a Master's Degree in education as a career backup."
She did that at the University of Hartford in Connecticut.
In 1965, a handsome young submarine officer, Robert "Bob" Kohankie, captured her imagination and heart. They married in 1967 and he left for Vietnam three months after their wedding; and, was gone a full year. He served as 3rd officer on the hospital ship USS Repose.
In 1976, the couple moved to Wooster, Ohio. She taught Floral Design at Ohio University's nearby Agriculture-Technical Institute. She was a weekly guest on television talk shows where she shared creative table setting ideas.
She founded a number of garden clubs, became an accredited flower show judge and served on the Board of Directors of the Federated Garden Clubs of Connecticut. In 1975 she designed and embroidered the White House Christmas ornament with the state flower of Connecticut.
When the Kohankie's arrived in Flower Mound for Bob's new job, her life of community activity shifted into high gear.
"In 1981, Flower Mound was still a sleepy little place of about 4,000 citizens and was served by post offices in Grapevine, Roanoke and Lewisville," she said.
She was appointed by several mayors to be the "official representative of Flower Mound in all matters having to do with the Post Office" and worked closely with former House Speaker Rep. Dick Armey on the Post Office zip code consolidation.
"A lot of people objected when Tarrant County attempted a 'land grab' by attempting to annex 550-acres of 'our' land and a legal battle erupted." She was appointed by then County Judge Jeff Moseley to chair the citizen's grass roots opposition committee.
Unfortunately, they were not successful and today the southern boundary of Flower Mound includes a small sliver of land in Tarrant County.
Currently, the town population is approximately 76,000.
"We are still modern-day pioneers," Kohankie said. "Our town is still growing and all we can do is manage it well."
She learned the art of nonprofit fundraising through service on multiple town commissions. In time, she taught at the Dallas Center of Non-Profit Management and became a member of the Board of the Association of Fundraising Professionals.
The jewel in her resume crown is being the first Chairman of The Festival of Trees, which raised operational money for the Lewisville-based Christian Community Action organization.
"We leased pre-decorated artificial trees to community groups," she said. "All the trees had been decorated by various volunteer groups."
She most recently served as a longtime board member for Friends of the Flower Mound Library and currently serves as a Republican Precinct Chair for her area and a member of the Flower Mound Rotary Club. She also participates in the genealogy group at the Flower Mound Senior Center.
Her presence is still felt these days as a regular speaker at Flower Mound Town Council meetings on various topics.
Lest we wonder if Bob stood on the sidelines while the whirlwind spun through his life, his wife says the answer is– a definite, "no, he was always involved."
Additionally, Bob has been a Lewisville Fire Department reserve fireman for 18-years and did the same thing for 20-years in Flower Mound.
"Our family car ferried around so much equipment, it received the affectionate nickname, 'Engine 3,'" she said.
Firefighting is in the Kohankie genes. The couple's son, Watson, is a professional firefighter/paramedic in the City of Carrollton and serves part-time in Argyle.
"Watson is living the dream he's had since he was three," said his proud Mom.
Kohankie's own parents believed in community service.
"At her Metropolitan Opera audition, my mother was turned down because she had children," she said. "That did not stop her, so she joined the Amato Opera Company in Greenwich Village in New York City and performed 39 different opera roles. For 40 years, she was a circuit-riding singer at four churches every Sunday and had a private voice studio in our home in Mystic.
"Instead of boring recitals, Mom produced performances called 'Opera Potpourri,' which showcased her students, while also raising money for charities. The last performance she produced benefitted Habitat for Humanity. At the University of Rhode Island, Mom became a fully-tenured professor and department head, without a degree."
Her father also had a signature professional career.
"During WWII, my Dad was a ship's superintendent, overseeing the construction of dozens of submarines. Medal of Honor recipient Sam Dealey (Dealey Plaza in Dallas is named after him) was skipper of the USS Harder and my Dad oversaw the construction of that sub. The photo of the Harder launching shows a silhouette of my Dad wearing his fedora, while he was standing on the bow.
"Dad also oversaw the replacing of the nuclear reactors on the USS Nautilus and worked closely with Admiral Rickover, the "father of the Nuclear Navy," she explained.
Her father's entire career was building submarines and he was very active making sure that the historic atmosphere in Mystic, Connecticut, was always preserved.
Kohankie's philosophy in life is: "Leave the world a better place than you found it. Give, don't take." And, of course, answer her Dad's question: "Will it matter 20 years from now?"
(Contact the writer at [email protected])