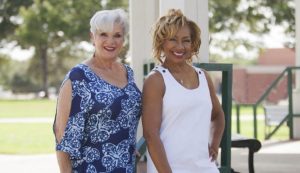 The fact that both the 2017 and current 2019 Ms. Texas Senior America (MTSA) winners are from Flower Mound is remarkable, given the size of the state. But, the fact that both women are named Brown is almost unbelievable.
Joyce Brown is the current holder of the MTSA title; her mentor– and 2017 title-holder– is Catherine Brown.
Both Browns stressed the pageant is not a beauty contest. The contestants are judged on their philosophy of life, interviews with judges, their talent and their gown presentations.
Joyce Brown grew up in Toledo, Ohio, with five sisters and two brothers. After her father's death when she was 15, her mother and the majority of her family members remained in the Toledo area.
Brown, however, joined her best friend and moved to Alabama.
"I attended college at Alabama A&M University where I received a BS Degree in Electrical Engineering Technology," she said. "I was the first to attend and graduate college in my family."
After graduation, she moved to Texas and worked at Texas Instruments for eight years as a product engineer and supervisor; then with Abbott Laboratories for the next 30 years, where she held many engineering and management positions.
"As a manager, I was responsible for developing and empowering my employees," said Brown. "At one time, I had 56 employees and had a $12-million budget. I was responsible for the implementation of many projects."
She retired from Abbott Laboratories this March, after her 30 years of service.
As a wife, mother and professional, Brown had enjoyed an active lifestyle. She even completed a marathon at age 49. A decade later, the thought of turning 60 "hit me the wrong way" and she started "feeling bad" for herself.
"In 2018, at 59, I was overweight and in the worst shape of my life," she said. "I decided to define 60 for myself and not let 60 define me. I became serious about working out and completely changed my eating habits. I transformed my body and now I'm in the best shape of my life. After losing the weight, I have more confidence."
Her physical transformation was also a mental revitalization.
She became a certified Health Coach at 59 and, in keeping with her past examples of sharing with and mentoring others, she has become a role model.
Brown's goal is to educate and encourage people to make better choices to improve their health and confidence by stepping outside their comfort zones and stretch themselves to live their best lives.
Although she'd never even thought of– or had any past experience with– pageant competitions, she entered the 2018 MTSA pageant, with a mission that represents her own.
The purpose of the organization is to represent the positive image of aging for women 60 and older. The goal is to empower and enrich the lives of all seniors and promote senior women.
Brown's family; including her husband of 35 years, Lennel, a professional cosmetologist; her two college-graduate daughters, ages 33 and 30; and, two grandchildren, ages eight and four; were all supportive of her transformation.
The pageant champions healthy aging, wellness and mental well-being. The contestants exemplify the "positive image of aging" and represent the foundation of America.
"If your mind and body aren't active, you start to fade," said Brown. "People kept asking me when I was going to retire, but I waited until I had a plan. You always need to have a goal and challenge yourself."
Like her mentor, Catherine, Joyce Brown is a two-time contestant; not winning on her first attempt.
"I made so many new friends-for-life, that I decided to enter [the pageant] again this year," said Catherine Brown about her 2016 attempt, following her win in 2017.
However, also like Catherine, she felt like a winner, because she had "such fun and had personal growth from the experience, which was so totally outside my own comfort zone." She added that all the women were so open and inviting into what "really is a sisterhood," that she entered the pageant again.
Her 2019 pageant platform of Health and Fitness, with a performance routine set to music, was an embodiment of the pageant intention to inspire seniors.
"Unfortunately, many diseases that people suffer from are because of our lifestyle-choices– such as diabetes, high blood pressure, cardiovascular diseases, joint problem, to name a few," said Brown. "We should live our lives intentional and purposefully. We were not created to live an average life. We were created to be so much more, but we have to overcome fear to become our best selves.
"I am looking for opportunities to try new adventures, live my life intentionally and to achieve God's destiny for my life."
Her first pending opportunity is the week-long 40th Anniversary national Ms. Senior America Pageant held at the Resorts Casino Hotel on the famous Boardwalk in Atlantic City, New Jersey. It begins with a welcome dinner on Oct. 20, featuring the traditional Welcome Showcase performed by former contestants and pageant friends.
Founded in 1989 by Dr. Al Mott, Ms. Senior America, Inc. is a non-profit corporation designed, not only to enrich the lives of seniors, but also to tap their energy to enrich the lives of others.
Today's seniors seek personal growth through continuing education and community service in forums responsive to their special needs and lifestyles, plus other activities designed to promote the dignity and value of America's seniors.