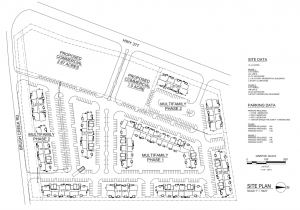 On Wednesday night, the Denton Planning & Zoning Commission denied a requested zoning change that could clear the way for a 352-apartment complex and commercial space on Hwy 377 near Argyle.
Pacheco Koch Engineering had requested a zoning change/designation to Neighborhood Residential Mixed Use for an 18-acre piece of land at the northeast corner of the intersection of Hwy 377 and Brush Creek Road, according to the city of Denton. The property — which would be called Brush Creek Apartments — is located just north of the town of Argyle and inside Argyle ISD.
The site plan proposes 352 apartment units spread among several two-, three- and four-story buildings, as well as nearly four acres of commercial space along Hwy 377. Currently, the site plan itself is not yet being considered for approval, just the zoning change/designation, according to the city.
Argyle ISD Superintendent Dr. Telena Wright wrote a letter to the city and attended the meeting, saying the district is experiencing a lot of growth already and is not prepared for the potential influx of students if the apartments are ultimately approved. Wright's letter also says that Hwy 377 is not capable of handling the additional traffic that would be caused by the proposed apartment complex.
There was a large turnout of residents who spoke in opposition to the project at the meeting, and the commission voted to recommend denial of the zoning change. This would mean a supermajority of the City Council members would have to vote in favor of the request for it to be approved. The developer has withdrawn its application, according to the city. It is expected that the developer will revise its site plan before re-applying.