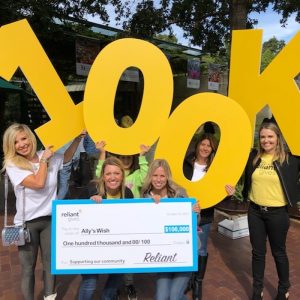 Ally's Wish, a nonprofit organization founded in Flower Mound devoted to granting the last wish to young terminally ill mothers with children, received a $100,000 donation Wednesday from Reliant Energy.
Ally's Wish received the most public votes during Reliant Gives, the company's charitable-giving program, according to a news release from Reliant.
"The donation is a game-changer for the young organization, allowing it to fulfill 20 last wishes for moms and their families," the news release said.
Over the last week, Reliant invited the public to vote and direct company donations to three North Texas area nonprofits, each nominated by Reliant employees. Reliant presented two other local nonprofits, Vogel Alcove and Texans Can Academies of Dallas, with donations of $20,000 and $10,000, respectively, based on the number of votes received.
"These three exceptional organizations are making a real difference in the lives of families and children throughout the North Texas community, and we're honored to support their work," said Elizabeth Killinger, president of Reliant. "Thank you to our dedicated employees for nominating such deserving organizations, and for the public's support in helping us decide where to invest $130,000 to local causes."