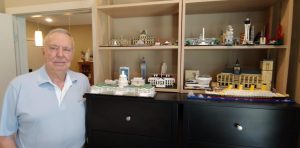 More than seven decades later, Wendell Potts still recalls when he first got the bug to build things.
He was just a kid working on windmills, bridges and other Erector metal toy construction sets. Soon thereafter, he was putting together farm equipment at the family homestead near Chickasha, Oklahoma. By age 11 or 12, he built a truck bed out of wood.
Today, the 83-year-old uses those skills to complete kits primarily made of Legos, depicting many of the world's most famous architecture. In the 18 months since moving into Flower Mound's Avanti Senior Living facility, he's purchased and assembled 30 to 35 structures, including: the Taj Mahal in India; Big Ben, Buckingham Palace and Trafalgar Square in London; the U.S. Capitol, White House, and Lincoln Memorial in Washington, D.C.; the Louvre Museum in Paris; the Burj Al Arab Jumeirah Hotel in Dubai; Sagrada Família in Barcelona, Spain; and, Leaning Tower of Pisa in Italy.
He's created skylines of cities including Chicago, New York, San Francisco, Shanghai, Berlin, Sydney and even took some spare parts and made a farmstead village.
"I'm so glad I've turned 14 so I can do these," he recently joked.
When an Avanti staff member saw them in his apartment, Potts was encouraged to put them on display for all residents and guests to view for about two weeks in late August and early September.
"It was so well-received and, of course, the kids just had a blast," he said. "There was constantly people stopping and looking at them."
For many years, he moved away from his childhood passion, while working in the marketing, claims, administration, project management aspects of the insurance industry in Oklahoma City, Lubbock and the Dallas/Fort Worth area– where he'd first moved in 1975.
Then, in 1981, he got into woodworking as a hobby and a passion, even building a workshop at his house.
Potts retired from the insurance business soon after first wife Marilyn passed away in 2003.
When he and second wife Dorolyn moved to Avanti in April 2018, he gave his equipment to his pastor at BridgeWay Church in Copper Canyon.
"I found myself here really antsy and one day saw an advertisement for a Lego product and decided only to do architecture," he said. "What it's done is helped with keeping my hands and my mind active. It's just the joy of creating something."
Each box includes detailed diagrams depicting projects layer by layer. Some of the pieces are so small he uses small pliers to take them apart or tweezers to meticulously put them together.
"You really have to pay attention because if you are off even one piece there are consequences," he said.
Since moving his displays back into the apartment, he finished his biggest individual project– a German castle containing 55,800 pieces, which took him one month to build.
His next project will be a gingerbread house for the holidays. After that, he'll need some new ideas as he's pretty much bought all the kits currently available.
"Some of them can get expensive," he said. "I've got several hundred dollars on some and probably thousands invested overall. I keep all the boxes and instructions. At some point they will be broken down either by myself or given to great grandkids and they will break them down."
He and Dorolyn have a combined 49 grandchildren and great grandchildren, with another on the way. Most of them live in and around Kansas City, plus various places in Texas.
When not spending time with his wife and family– or working on his projects– he reads the Bible and helps out around Avanti.
"I enjoy serving others," he said. "I'm down here at breakfast serving coffee to help the staff or anything like that. I like to be of service to other people."