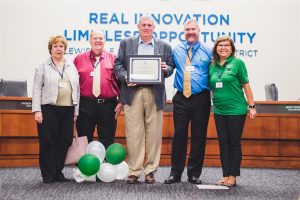 Lewisville ISD Superintendent Dr. Kevin Rogers has been named one of 16 recipients of the University Council for Educational Administration's 2019 Excellence in Educational Leadership Award.
The award is an annual recognition for school administrators who have made significant contributions to the improvement of administrator preparation, according to a news release from Lewisville ISD. The University of North Texas, a member university of UCEA, nominated Rogers.
"The Board is thrilled Dr. Rogers was recognized for his leadership of LISD, specifically related to the district's work on educational equity," said LISD Board of Trustees President Katherine Sells said. "He is a champion for ALL LISD students, and our students, staff and the communities that comprise our district have greatly benefited from his dedication to LISD."
Representatives from UNT's College of Education surprised Rogers during his monthly meeting with district and campus leadership, according to the district. The surprise included a framed award as well as a standing ovation.
"This award is really a recognition of Lewisville ISD's focus on equity in education for all students, and that has been a focus of our Board and administration for several years," Rogers said. "I've been part of the LISD family for 34 years, and I've been proud to witness so many tremendous accomplishments by students and staff during that time. But nothing makes me more proud of our district than our focus on ensuring all students are equipped to thrive in a future they create. I am a proud two-time graduate of UNT, and I appreciate their support of our work."