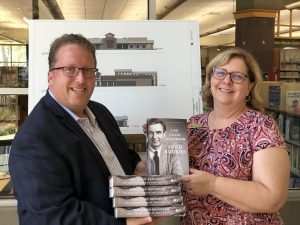 Local real estate broker, Jay Marks of Jay Marks Real Estate, believes it's more important now than ever to be a "good neighbor," which is why he donated five copies of the Fred Rogers biography, 'The Good Neighbor,' to the Flower Mound Public Library on Thursday.
"I wanted to give a book to our Town Library today that focuses on being a good neighbor," said Marks. "There are so many people in town that are involved in policy and are promoting what their vision of the town should be. I wish people could do this with more civility and remember that at the end of the day all of us are neighbors."
Marks' love for biographies of leaders and influential celebrities began as a young boy when he spent many afternoons in the city library in Oklahoma waiting for his dad to pick him up after school. Marks hopes that these five copies of Rogers' biography will be read over and over again by Flower Mound residents so that we can implement the spirit of what Fred Rogers taught here in our community.
This is not the first time Marks has given away copies of books that have meaning to him. He is constantly pulling books off his personal bookshelf to give to those he mentors through his real estate brokerage. He has provided mentorship to high school and college students, those who are just starting their careers, and those who are starting new careers.
"I hope that by mentoring people early on in their journey, they're inspired to be better and make everything around them better too."
Marks is in his 25th year in real estate as the owner and broker of Jay Marks Real Estate, a boutique real estate brokerage in Flower Mound that specializes in helping clients buy, sell and invest in residential real estate.