By Elizabeth Brannon
Do you know that Flower Mound has a unique and wonderful Edible Art artist here? If you've been to the Hive Bakery, in Parker Square, then you know what I'm talking about. If you haven't been to Hive Bakery, October will be a perfect time to visit this unique place and experience not only great art, but you'll get to eat art, too. How many art houses can offer that?
Haley Popp is the bakery owner and design artist for the cakes and edible creations Hive Bakery produces. Haley determined what she wanted her bakery to be long before the doors opened. Haley wanted her work to be recognizable, and if you see her creations, you know they are not only recognizable but memorable and one of a kind. In fact, Hive Bakery is an "award winning bakery, having been recognized for their outstanding achievements in both pastry and cake design." Haley designs all the cakes and the rest of her staff members execute the plan. Her staff not only have professional experience as food artists, but they all have an art history background as well.
Based on the cake and pastry awards and photos on their web site and other social media,  more than a year ago, Haley was contacted by the Food Network and invited to appear as a contestant on the Halloween Wars program for 2019. Haley was part of a team that included a pumpkin carver, a sugar artist and a cake artist (Haley). Her team competed against four other teams for the win, bragging rights and a grand prize of $50,000!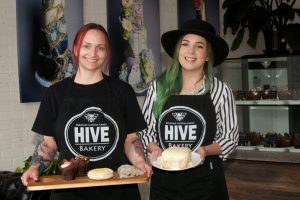 The competition and the results will air on the Food Network, at 8 p.m. starting on Sunday, September 29, and running every Sunday Night from September to Halloween! Sorry, we can't reveal the results, so you need to watch the Food Network Halloween Wars 2019 series and recognize that we have a celebrity here in Flower Mound!
Haley said the Food Network liked her so much, she was invited to participate in another Food Network show, filmed in Canada. That show will air in the spring 2020. Haley said the network flies the contestants to the show and provides hotel and food, resulting in a working "vacation."
For October 2019, the entire menu for the Hive Bakery will have a different Halloween theme each week, from horror films to Halloween characters. Haley said Halloween is her favorite holiday and time of year, and she's thrilled to be creating edible Halloween art all month long. Stop by the Hive Bakery and visit their website: hivebakerytx.com.
Ummm, delicious!
Elizabeth Brannon serves on the Flower Mound Cultural Arts Commission.