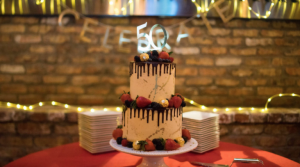 By Jay Marks
I would argue that no place has had more anticipation for its opening than Hive Bakery before it opened its doors in Parker Square a month ago.
We've been following Haley on Facebook for over a year – during her journey from expanding her in-home custom cake business to a full brick-and-mortar bakery in Parker Square. We've always been in awe of her attention to detail and creativity – which is why I requested she make my 50th birthday cake. And boy was that cake ever beautiful AND delicious!
No matter the occasion, Haley can create the perfect custom cake for you. We've seen incredible creations for first birthdays, anniversaries, 80th birthdays, weddings and more.
Now that she has her shop in Parker Square, Haley is showing Flower Mound what other tricks she has up her sleeve with baked goods like cupcakes, brownies, cheesecake slices, gluten-free options and her monster cinnamon rolls.
She's been so swamped with support and business since she opened that there's hardly been a day she's been able to stay open all day – she sells out before closing time! But she told us she's so grateful for all the love she's been shown and is excited to keep offering Flower Mounders incredible baked goods.
If you haven't visited her bakery yet, YOU'RE MISSING OUT! And you'll want to get there early in the day to make sure you can take advantage of the best selection.
We are so grateful to have Haley here in our community, making sure we're well-fed. Congrats on your new shop, Haley! Can't wait to see what the future holds for you!
*Hive Bakery is located at 360 Parker Sq Rd, Flower Mound TX 75028. For custom orders, email [email protected].