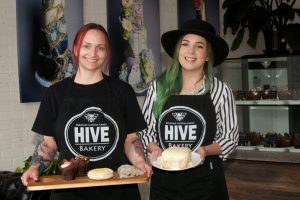 As a child of the 1980s, it's no surprise Haley Popp still loves everything about that decade; most visibly displayed on her right arm in a tattoo sleeve of her favorite movies.
"It reminds me of good times as a kid, because I had a happy childhood," said Popp, a 1999 Lewisville High School graduate. "I love 80s horror films and music. I love pop culture and, like any artist, am heavily influenced by it."
Popp combined her lifelong creative streak with her knowledge of baking and launched Hive Bakery in 2016.
What started out as a home-based business soon grew into a storefront last June in Flower Mound's Parker Square, where she and her five classically-trained team members continue to churn out confectionary delights each week.
Since opening day, when the line wrapped around the back of the building and there was an hour wait to get in, Hive Bakery sells out most weekends and produces an average of 15 intricately-designed custom cakes each week for special occasions. They book out months in advance and show no signs of slowing down.
Popp always has been an artist. It runs in her blood. She paints, draws, sculpts, dabbles in photography and actually began her career in the fashion world, after graduating with a Bachelor's degree in Apparel and Textiles from Kansas State University.
"I had dreams of moving to New York City and being an haute couture fashion designer," she said.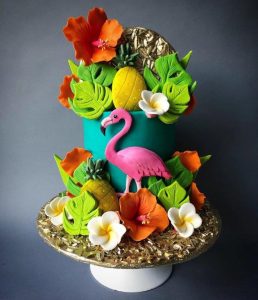 Those plans changed when she met Conrad Popp in college, got married and moved back to Texas where she acquired her first job as an assistant designer in the Juniors Department for Arizona Jean Co., a private label for J.C. Penney.
"It was not as creative as I thought it would be," she said. "It was more of a 9-to-5, behind a desk, doing crap on a computer screen. I wasn't there for that, so I quit."
She then worked as a freelance graphic designer from home, which allowed her the opportunity to start her family and the freedom to raise her children. When son Roman was nearing his first birthday, Popp decided to make her very first custom cake– completely from scratch– using the baking knowledge that had been passed down from her grandmother and mother, combined with her strong art history.
"At the time, Ace of Cakes was a popular show on TV; the first of its kind," said Popp, mother of Roman, now 14; daughter Willow, 12, and daughter Harper, 10. "It was the first time anyone had made people aware of custom cakes. I had never thought I could use my art background in a medium that I love. I can bake and create art."
Soon, she began making more cakes– all from scratch– and over the next decade became a master of her craft. She worked for various bakeries before starting Hive Bakery; making cakes for friends and family and eventually paying customers.
"I finally understood when working for other people, that no one was going to give me the creative freedom I wanted, so I decided not to do this for anyone else," she said. "I'm going to just do my own thing."
Popp admits there's nothing conventional about Hive Bakery, starting with its name. What started out as a hobby– taking macro photos of nature– and, more specifically bees, turned into a genuine love. Popp quickly learned just how much these insects contribute to the food chain, including many ingredients featured at her bakery.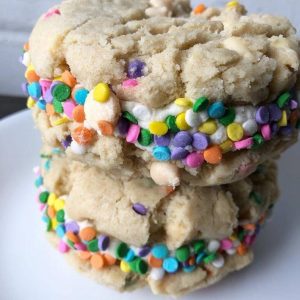 "If you know anything about bees, you know we don't have food without them," she said. "Pollination is everything. The 'save the bees' movements' are legit and I don't make any of this without them."
As the business took over her home kitchen, living area and dining room, she knew it was time for a brick-and-mortar place of her own.
"I literally was sleeping two hours a day, no joke," Popp said. "It was all-consuming, no separation between my work and my home life and I really needed that."
Her success already has gone national, with several published articles in Cake Masters and American Cake Decorators magazines. She has been given the prestigious award of Satin Ice Artist of Excellence, plus a spot this past October on Food Network's Halloween Wars. On top of that, a crew just recently filmed for 10 days at the store for a potential new show that's under wraps.
"I've been fortunate that my work has taken me places like being on TV," she said.
Besides the custom cakes, Hive Bakery is known for its giant cinnamon rolls, breakfast scones, delicious cupcakes and inventive flavors, that aren't typically seen in bakeries.
Team members at Hive Bakery take great pride in being creative and inventive with their baked goods.
The pastry chefs specialize in the unusual and thrive when given unique requests. Among their favorites are a 3½-foot-tall Blue Raptor sculpted cake from the movie Jurassic World, a realistic hand-sculpted Boston terrier, a three-tier Tim Burton Sweet Sixteen cake and a Post Malone 21st birthday celebration cake.
Hive Bakery is unique, in that it never copies other peoples' work and only creates original designs for each client. Popp and her team hand-paint, sculpt, ice and build each cake with meticulous detail, which is no surprise, since she considers herself and her team a group of artists.
"I opened this bakery because it is my creative outlet," said Popp. "I pour a part of me into every piece of art that goes out the door. That's how we perceive each cake. It's not just something to eat, but a lasting memory for every family that picks one up. We'll be in pictures and photo albums. Those cakes are meaningful, so we put a lot of time and effort into every piece."