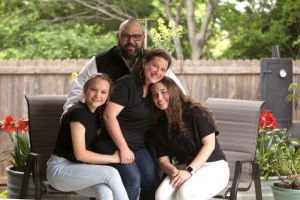 Carrie Simpson has lived through significant challenges in her life and continues to inspire others to cope, persevere and overcome.
At an early age, her childhood home in Sugar Land, Texas, was demolished by fire the day after Christmas. Several years later, she lost her grandparents to another house fire. That same year, in 1999, she was diagnosed with cancer for the first of four times.
Fortunately, the Flower Mound resident has survived it all; while maintaining a positive attitude, keeping her smile and serving others.
"A lot of people inflict things on themselves," she said. "I didn't inflict any of it. I just had to learn how to smile, pray and persevere through it. I am blessed. It's God's story. I'm just the tool he uses to tell it."
She was first diagnosed with Hodgkin's Lymphoma (on 9/9/99) at age 20. After going through chemotherapy and radiation, she was cancer-free for seven years and earned a Bachelor of Science degree in Interdisciplinary Studies from the University of Houston. Also during that time, she married her husband, Charles, and had two girls, Cara and Bailey.
"Charles and I were told I wouldn't be able to have children after all of the initial treatments," she said.
In 2007 she was diagnosed with MFH Sarcoma, which is believed to have been caused by too much radiation exposure. An initial surgery failed to totally eliminate the problem, which returned in 2008. Another surgery and chemo put her in remission, until 2011. In 2016, she elected to have a double mastectomy as a preventative measure against breast cancer.
Through all of this tragedy has come triumph.
Her passion for children's literature became a reality in 2018, when she launched her own publishing company. While working as a substitute teacher for the Lewisville Independent School District, Carrie founded Bee Kind Publishing; and, wrote her first children's book, "Oh! No! I Swallowed a Seed!" Her book can be found at beekindpublishing.com. It's a delightful story of a child's imagination of what happens when they accidentally swallow a fruit seed.
In addition, Simpson's passion to help others unexpectedly led to the acquisition of the Mosquito Shield franchise of North DFW.
When Charles experienced his third career layoff last year, they decided to look at some other options.
After researching a number of businesses, what attracted them to Mosquito Shield included using mostly natural ingredients, mosquito life cycle management, and friendly supportive leadership.
"With us coming out more often, it breaks that lifecycle," she said. "We're pretty excited about it! If you have mosquitos, call 214-513-BITE."
They launched the franchise in January to help others enjoy outdoor life again.
"It truly is a need and we are so happy to serve others in a way that makes their life more enjoyable," she said.
Although life has presented many challenges, Simpson continues to shine and persevere one-day-at-a-time. She feels thankful and abundantly blessed to be alive, to mother her two daughters and, hopefully, show them that perseverance is not a choice– but a way of living.