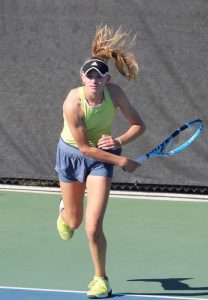 Six teenage girls around the country have qualified for the 2019 Team USA National Junior Tennis Team, including one from Flower Mound.
Ashlyn Krueger, 15, has automatically qualified to the team, according to a news release from the United States Tennis Association. She received two Excellence Awards in 2019 in addition to reaching the semifinals of the ITF World Tennis Tour W15 event in Carson, California last month. Her coach is Dave Anderson.
The National Junior Team is a training program designed to give the best young players the opportunity to train together and travel to play the best junior competition around the world. Team members will receive training opportunities, coaching and travel assistance to select International Tennis Federation tournaments throughout the summer.