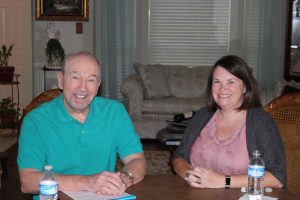 The 2020 primary races are heating up as more candidates get into the political arena for their party's nomination in March. A recent entrant onto the field of battle is Angela Brewer, a professor of communication studies at UNT and Collin College. Ms. Brewer is running for the Democratic nomination for Texas State Representative in District 64. Republican incumbent Lynn Stuckey also has a Republican opponent running for the GOP nomination. I asked Ms. Brewer to sit for an interview to tell voters about her background and why she decided to run. The following info was taken from Angela Brewer's campaign website: www.angelafortexas.com
"I am a mom, an educator, and a native Texan with a passion for helping young people find and follow their dreams. I am running for the Texas House of Representatives District 64 so that Denton County can get the representation it's entitled to in Austin. Our community is a vibrant, creative, and compassionate place that deserves a representative like me who embodies its values. I saw my first political action at the ripe old age of 12, helping in Denton's efforts to save Flow Memorial Hospital in 1986. I was fully infected by the political bug in high school with Ann Richards' 1990 race for Governor, and I haven't given up my love of social action since. I've worked on Capitol Hill, in civics education, and in dozens of political campaigns all over Texas.
"Capitalizing on my experience working in politics and civics education, I moved into a more traditional classroom setting in grad school, deepening my passion for education and the community it can create. That love for education is rooted in my own schooling. My mom was in the Army when I was born, so my family spent most of my early years moving from base to base, finally finding our home in Denton when I was in the sixth grade. Compassionate teachers and welcoming Girl Scout troops helped me craft community and create connections wherever I lived, and those communities left an indelible impression. I still believe in public schools that work to meet students where they are- remembering that many of the lessons learned in our classrooms aren't about reading, writing, and arithmetic- and in doing all we can to support teachers in the life-shaping work they do.
"It is time for a new generation of leadership. We are facing extraordinary growth in north Denton County, and as we look at other communities who have grown like we are growing, we know this can be done in a way that preserves our unique identity, protects our natural spaces, and preserves the qualities that make our towns the lure they are. Well-managed growth that keeps our community the place we want it to be takes leadership and vision for the future. It's time we elect a leader who embraces innovative problem-solving, critical thinking, and is ready to fight for House District 64 in the statehouse.  I am eager to engage the citizens of Denton, Corinth, Krum, Hickory Creek, Lake Dallas, and Shady Shores in conversations about the future of our growing communities and to develop plans for the ways the statehouse can support north Denton County in meeting that future with success for all of us.
"I married my true love, Frednel, in 2015. We are the proud and tired parents of 3 ½ year old Leo. In our free time, we enjoy reading, playing airplanes, cars, and Hungry Hungry Hippos, and cheering for the Cowboys and FC Barcelona. I also love to cook, which works out well for the non-cooking men in my house. I graduated from Denton High School in 1992, the University of North Texas with a bachelor's degree in political science 1997 and a master's degree in communication in 2007, and Concordia University with a master's degree in education in 2014. I currently work as an adjunct professor of communication studies at UNT and Collin College."