The Flower Mound Pumpkin Patch is back again this year after a season of uncertainty.
The Flower Mound fall staple will open for its 28th season on Oct. 1 and will remain open through Oct. 31. The fields are filled with pumpkins, fall decor, kid-friendly characters, hay mazes, bounce houses and more. It was named last year in a list of the 25 best pumpkin patches in the country by Country Living Magazine.
Jan Balekian, the owner of the property and Pumpkin Patch, had been trying in previous years to sell a portion of her property, at the corner of FM 1171 and Lusk Lane, so a CVS could be built. Balekian, now 70, said she has had health issues and is not sure how long she can continue to run the Pumpkin Patch without the financial help of selling the land on the corner.
"It would've allowed me to stay here as long as I want," Balekian said.
However, the zoning request needed to make that sale was denied multiple times by the town Planning & Zoning Commission and Town Council.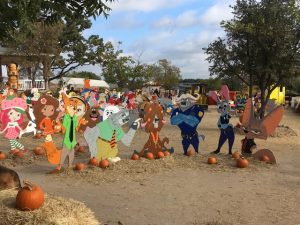 "My neighbors didn't like that idea because they were worried about traffic, I'll try to keep the Pumpkin Patch going as long as I can," Balekian said. "I just don't know how much longer it will be."
Balekian said that earlier this year, she wasn't sure if she'd bring it back this fall, but ultimately she decided to do it again "because it's what I love to do."
"I am geared up and ready to go," Balekian said.
This year, new characters from the Wizard of Oz and Pinocchio have been added, as has a Sheriff train with a little "jail" on the end of it. Texas Roadhouse will replace Red Hot & Blue, offering food for sale on the weekends.
Balekian also plans to offer the Christmas Tree Farm again, which will open the day after Thanksgiving.