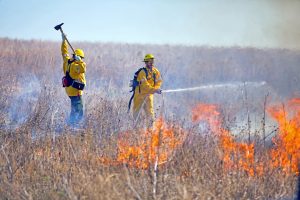 The Denton County Commissioners Court issued a burn ban Tuesday because of dry weather.
The court instated a Local Disaster Declaration for Threat of Wildland Fires Due to Dry Conditions in Denton County, according to a news release from Denton County Emergency Services. The ban is effective immediately.
High winds, low humidity and dead/dormant vegetation are contributing to the risk of large and destructive wildfires, according to the news release. There is little chance for relief in the immediate future from the dry weather, and the county is currently in moderate drought conditions. The burn ban will continue until drought conditions are alleviated. The burn ban prohibits all outdoor burning and restricts outdoor welding and use of certain combustible materials. Violators can be punished with a class C misdemeanor citation and fine up to $500.
"Prevention of potential wildland fires is essential to the safety of County residents," said County Judge Andy Eads. "Wildfires can be devastating and difficult on everyone, especially farmers and ranchers; wildfires can destroy not only lives and property, but livelihood as well."