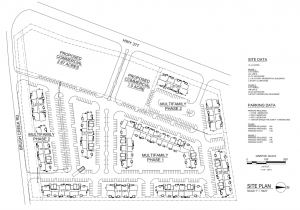 A zoning change has been requested for a piece of land on the Denton/Argyle border that may lead to a 352-apartment complex and commercial space on Hwy 377.
Pacheco Koch Engineering has requested a zoning change/designation to Neighborhood Residential Mixed Use for an 18-acre piece of land at the northeast corner of the intersection of Hwy 377 and Brush Creek Road, according to the city of Denton. The property — which would be called Brush Creek Apartments — is located just north of the town of Argyle and inside Argyle ISD.
The site plan proposes 352 apartment units spread among several two-, three- and four-story buildings, as well as nearly four acres of commercial space along Hwy 377. Currently, the site plan itself is not yet being considered for approval, just the zoning change/designation, according to the city.
A neighborhood meeting will be held Tuesday evening. to receive citizen input regarding the proposed project. The meeting is scheduled for 6:30 p.m. at the Holiday Inn Express & Suites, 4485 I-35 North in Denton, according to the city.
The zoning request is scheduled to be considered by the Denton Planning & Zoning Commission during a public hearing on Oct. 2 at Denton City Hall, 215 East McKinney St. in Denton.