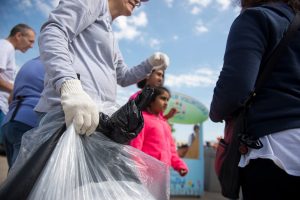 The Keep Flower Mound Beautiful Fall Trash Bash and Festival is scheduled for this weekend.
The semi-annual community clean-up will run from 8:30 a.m. to 1 p.m. Saturday, Sept. 28 in the Flower Mound High School parking lot, 3411 Peters Colony Road, according to a news release from the town of Flower Mound.
There will be giveaways, door prizes and awards for most trash/re­cyclables collected. During the clean-up, there will be a pet-friendly Environmental Health Fair with a variety of vendor booths and kids' activities, open to everyone, according to the town.
At­tendees can drop off their electronics to be recycled, have their documents shredded with Shred-It and Recycle2Support (benefiting CCA) will collect gen­tly-used houseware items, textiles and clothing donations. Lunch will be provided by the Summit Club of Flower Mound.
For more information, visit www.kfmb.org.