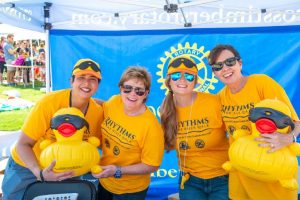 After a first event that far exceeded expectations, the second-annual Rhythms at the River Walk is set to make an even bigger splash.
Presented by the Cross Timbers Rotary Club, it will be held Saturday, Sept. 21, between 10 a.m. and 3 p.m., at Flower Mound's River Walk. While the most visible activity will be the Duck Derby, plenty of other activities will take place for children and adults.
Its inaugural last year began when Cross Timbers Rotary's Past President Chuck Elsey and current President Ginger Eads attended President-Elect Training (PETS) in Dallas. Elsey was in a session on fundraising and someone mentioned the idea of a duck derby.
"That's all Chuck heard and he immediately thought of the River Walk," Eads said. "It was interesting, back in 2015 when we formed the club, there was a group of us that said, 'one day we want our signature fundraiser event to be at the River Walk in Flower Mound.'
"We didn't know what it would be at the time. We thought we wanted something with music. That's why it's called Rhythms at the River Walk."
Eads' husband Andy, then a County Commissioner– and now a Denton County Judge– joined Elsey at a duck derby in Graham, where they met people from GAME, a company that facilitates duck derbies around the country. By May 2018, the club hired GAME, targeted the third Saturday in September and went at it.
"They actually tried to discourage us from doing it last year, because they didn't think we had enough time," Eads said of GAME officials. "They said it usually takes a year to pull off such an event. We said 'we're not going to skip a year, we're just going to go forward and do it.' Because people pulled together we were able to pull it off."
With a goal to net $25,000 by selling $50,000 worth of ducks, the initial event grossed $137,000 and netted $68,500 thanks in part to selling 15,000 ducks. Last year there also were 67 sponsors, 71 vendor booths and an estimated 2,000 attendees, numbers the club hopes to top this year.
"That is a signal of the strength of the Cross Timbers Rotary," said Shelly Dodge, the club's vice president and one of four event co-chairs– Jim Moll, Phil Geleske and Bob Phillips. "The leadership of last year's event said in order to make this a success, the community needed to see how wonderful an event it was going to be. We needed to rely on our members to sponsor, to pitch in, to sell ducks, to help us get volunteers and everything else it takes to pull off an event of this size. Everyone stepped up more than we ever imagined."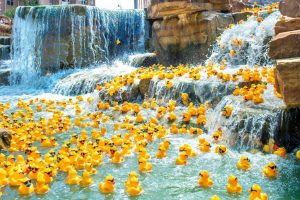 The 2018 proceeds were split between 18 nonprofit organizations: Ainsley's Angels; Communities in Schools of North Texas; Cloud 9 Charities; Friends of Scouting; Denton County Friends of the Family; Keller Williams Flower Mound Cares; SPAN, Inc./Meals on Wheels of Denton County; Denton County MHMR; New Hope Equine Assisted Therapy; Ranch Hands Rescue; She Supply; Denton County Veterans Coalition; Winning the Fight; YMCA; Young Life; Youth and Family Counseling; and, Habitat for Humanity.
This year's beneficiaries will be announced after all grant applications have been received. Applications come through club members who are affiliated with each organization.
People, businesses and organizations adopt the ducks. The first 10 that cross the finish line win prizes. Duck adoptions are $5 for one, $25 for a six quack, $50 for 12 and $100 for 24.
But, the event will feature much more than just the Duck Derby, which takes place at 1 p.m.
There will be a 5K River Run at 8 a.m. and Family Friendly River Walk at 10:30, plus art and vendor booths, children's activities (including games, petting zoo and bounce houses), food trucks and three stages of entertainment performing throughout the day.
"While the Duck Derby is a big draw, we really want this to be a music festival," Dodge said. "Our vision for this event is for it to grow in length over the day, maybe eventually it can become a two-day event. Our goal is, no matter where you are at the event you can hear music."
Complete details on Rhythms at the River Walk – including how to adopt ducks and sponsor events – can be found at rhythmsattheriverwalk.com.