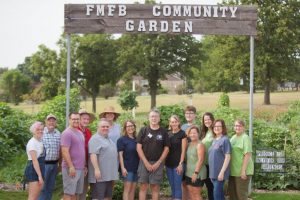 Drive by the southeast corner of Morriss and Eaton Roads on any given Thursday morning and you likely will notice a small group of people working a garden right in the middle of Flower Mound.
This is the Flower Mound First Baptist Church's Urban Farm and Community Garden where volunteers grow and pick about three-dozen varieties of fresh fruits, herbs and vegetables, which are donated weekly to the Christian Community Action (CCA) Food Bank in Lewisville.
The brainchild of church member Lori Giesler, the garden sits on what was a vacant lot, originally planned for future church growth. When that never materialized, Giesler recommended the lot be turned into a community garden, which it was in 2016.
The garden features 42 rows– half to help CCA– with the other half for people without yards to plant and grow their own crops. The initial challenge was how to water what the people grew. While the church grounds had a sprinkler system, it had been neglected over the years, so money was spent to drill a 900-foot well, install irrigation for 21-rows of the garden, plus fix up the needed irrigation for the rest of the church property. The group has plans to install irrigation for the other 21 rows after this growing season is over, hopefully with the aid of a grant from a local source.
Today, Giesler serves as the garden supervisor, with David Huffman and Carol Noble as co-program managers and Cindy Helm as an unofficial program manager. Interestingly, when Noble saw the land originally being plowed, she thought it was to put up another concrete building. When she learned it was to be a garden, she was elated, especially since she had just became a Master Gardener through the Denton County Master Gardener Association. Huffman followed suit the next year and Helm did the same in 2018.
They have played key roles in reaching the goal of donating 10,000 pounds of produce to CCA in its first four years. After each week's harvest, Huffman takes everything immediately to CCA, which eagerly anticipates his arrival.
"They are always excited to see me come each week," he said. "I'm like a celebrity."
But, the garden is not just for raising produce to donate. It also serves to educate people through the Denton County Master Gardener Association.
Huffman, Noble, Helm and other DCMGA members conduct periodic demonstrations for elementary school students and scout troops. The lessons cover such topics as planting seeds, weeding, spreading mulch, fertilizing, harvesting and cleaning.
The garden also has played a key role in reviving the church itself, which now has about 100 members. It started in 1980 as an official mission outreach of the First Baptist Church of Justin.
"This is a very high visibility area, being on Morriss," Huffman said. "We get Girl Scout and other groups calling to come here. We have people who bring their grandkids here."
The list of crops grown at the site is impressive. It includes asparagus, basil, green and pinto beans, blackberries, cantaloupe, carrots, chives, cilantro, cucumbers, dill, figs, garlic, kale, leeks, lettuce, okra, onions, parsley, patty pan squash, peaches, purple hull peas, peppers, pumpkins, radishes, rosemary, spinach, squash, swish chard, tomatillos, tomatoes, watermelons and zucchinis.
FMFB Urban Farm and Community Garden won blue ribbons for its onions, leeks, garlic and blackberries, plus a red ribbon for cucumbers at the Denton County Fruit, Vegetable, Herb and Flower Show this June. It also was featured in the July issue of The Root, the DCMGA's monthly newsletter.
Anyone can subscribe to The Root for free at: dcmga.com.
"We get a lot of people who stop by and want to buy vegetables, but we don't sell them," Huffman said. "The Master Gardeners love this project. In fact, this year we're hoping that the Denton County Master Gardener Association might choose to nominate this garden for a statewide annual award."
Learn more about the garden at fmfb.church/grow/garden or call 972-539-0641.