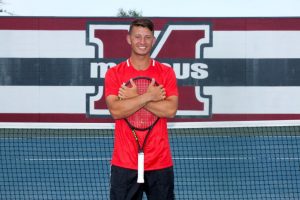 Most elite-level tennis players began competing in their early elementary years with the hopes of one day playing at a DI college team on a scholarship, or even turning pro.
But, at Marcus High School in Flower Mound, senior Ryan Mouakket has defied the odds.
"Ryan is one of the hardest working players I've had in my 30-plus years of teaching professionally," Marcus High School tennis coach Kelly Langdon said. "Stylistically, Ryan is an all-court player, that will grind out long points if needed."
An all-court player is versatile; effectively playing a baseline or net game with the ability to serve and volley or counter, depending upon the situation. Mouakket is comfortable in any style of play.
He's compiled an overall record of 59-6 last season and helped lead the Marauders' team to an appearance in the regional finals last fall.
Then, during the spring season, Mouakket was selected as the district's Most Valuable Player and advanced to the State Tournament.
Mouakket first began playing tennis while attending Downing Middle School and Langdon said that is a rare phenomenon among elite players to start so late.
"Most people don't understand how difficult it is to reach Ryan's level of tennis in only five years, which shows the amount of hours he's put in on the courts," Langdon said. "Ryan was playing college-level tennis after three years of picking up a racket."
Mouakket, 17, grew up playing football, basketball and soccer, but said tennis piqued his curiosity from the moment he first saw the sport played.
"I started watching tennis on TV and reached out to my dad that we should start doing lessons," Mouakket said. "After the first lessons, I got on the middle school team at Downing."
Within four years, the Double Oak teen had evolved into one of the top players in the state. As a junior in high school last season, Mouakket really turned things on.
"It was the best season I've had, both for the school and individually," Mouakket said. "It was really exciting to advance so far as a team and individually."
Marcus High School enjoys a proud tradition in the sport of tennis, with multiple district championships– both team and individually– and a three-time state champion, Pavi Francis.
Langdon, himself, has been named the USPTA Texas High School "Coach of the Year" four times in his career.
This season, Mouakket said his main goal is to move into the top echelon of players to come out of Marcus High School and do whatever is necessary to help his team reach the State Tournament.
"My motivation is high not only to reach State again, but be a favorite to win the championship," Mouakket said. "When you make State, it sets you apart from other players. To represent Marcus at the highest level of the UIL is a great feeling."
Langdon concurred with Mouakket's objectives for the upcoming season. With the steady progress he has continued to make, 2019-20 should be a fun school year.
"The goal and the expectations (last year) were to reach the State Tournament," Langdon said. "His sophomore year, he was seeded at the Regional Tournament and lost a tough 3-setter. That loss, although tough to take, really gave him the drive and the experience to win a 3-set match that sent him to State last year. Goals for this season are simple— return to State and compete for a championship."
Beyond next school year, Mouakket has been approached and has received an offer to play tennis at the college level, which he plans to accept.
"I felt very honored that universities were wanting me to play at their schools, especially so early in the year," Mouakket said. "I do plan on playing at Midwestern. I like the fact that it is in Texas and that my family, friends and coaches can potentially come and watch. Plus, Midwestern is always one of the best teams in the nation."