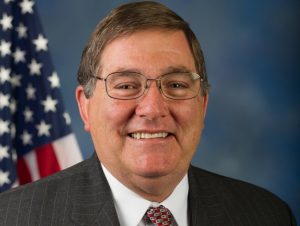 Four people have announced they will challenge U.S. Rep. Michael Burgess (TX-26) next year for the U.S. House district that covers Denton County and part of northern Tarrant County.
Burgess, who will seek re-election, has served in the seat since 2003. A Republican and strong supporter of President Donald Trump, Burgess serves on the House Energy and Commerce Committee as the Republican Leader of the House Energy and Commerce Subcommittee on Health, as well as the Subcommittee on Oversight and Investigations, the Subcommittee on Consumer Protection and Commerce and the House Rules Committee.
Two people have announced that they will challenge Burgess in the 2020 Republican Primary election: Jack Wyman of Highland Village and Jason Mrochek of Frisco. Two Democrats have also announced their plans to run for the 26th District seat: Mat Pruneda of Denton and Carol Iannuzzi of Lewisville.
Candidates can officially file to be on the Primary ballot between Nov. 9 and Dec. 9. The Primary election will be March 3, 2020, and the general election will be Nov. 3, 2020.