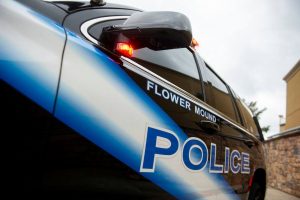 A crash between a motorcycle and a school bus (which was empty other than the driver) caused a major road closure in Flower Mound late Wednesday afternoon.
Flower Mound Police Department Captain Shane Jennings said police believe a motorcycle, operated by a man in his mid-20s, was headed west on FM 1171 when he ran a red light at Timber Creek Road and struck the side of the school bus, which was turning left from southbound Timber Creek onto eastbound FM 1171.
Jennings said the motorcyclist was transported by ambulance to the hospital for his injuries. The bus driver was treated and released at the scene.
The westbound lanes of FM 1171 were shut down from about 3:30 p.m. to 5 p.m. Police will continue to investigate the crash.