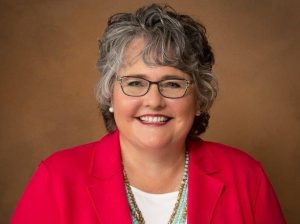 About three weeks after launching an exploratory committee, Lewisville ISD Trustee Kronda Thimesch announced Wednesday that she is officially running for the Republican nomination for Texas House District 65. which encompasses Lewisville and the eastern portion of Highland Village.
Thimesch, a small businesswoman and Denton County GOP "Volunteer of the Year," claims support from more than 160 elected officials, community leaders and grassroots citizens, according to a news release.
"Denton County needs Kronda in the Texas Legislature," said Denton County Judge Andy Eads. "She will be a strong and vocal advocate for our schools and improved transportation that create our great quality of life here in Denton County."
Thimesch said she is "humbled by this outpouring of support."
"Today's announcement demonstrates we are well on our way to uniting Republicans so we can turn our focus to winning back this seat next November and providing this district with the kind of effective, conservative representation we deserve," Thimesch said.
Former Republican State Rep. Ron Simmons announced in mid-August that he has decided to not run again for his old seat. He served House 65 from 2012 until he was unseated by Democrat Michelle Beckley in 2018. Thimesch said she wanted to run for the seat because Simmons wasn't going to.
"Kronda is off to a very impressive start, a testament to the strong support she already enjoys across this district. She has my full endorsement," Simmons said. "Our district deserves a return to a common sense conservative in the State House and Kronda will deliver just that."
According to Thimesch's campaign, her endorsements include, among others: Denton County Sheriff Tracy Murphree, Denton County Judge Andy Eads; Commissioners Ron Marchant, Bobbie Mitchell, and Dianne Edmondson; Carrollton Mayor Kevin Falconer and former Carrollton Mayor Matthew Marchant; Carrollton City Council Members Steve Babick, Glen Blanscet, and Mike Hennefer; former Carrollton City Council Members John Mahalik and Bob Doverspike; Highland Village Mayor Charlotte Wilcox; Highland Village City Council Members Barbara Fleming, Dan Jaworski, and Jon Kixmiller; Lewisville City Council Member TJ Gilmore; former Lewisville Mayor Dean Ueckert; Denton County Constable Richard Bachus; former Denton County Justice of the Peace Gary Blanscet; and former Denton County Judge Mary Horn.