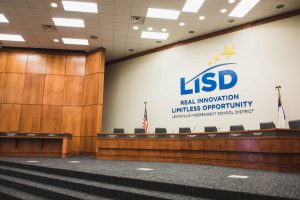 By Leopold Knopp
After a state legislative session that made school finance a top priority, Lewisville ISD property taxes will likely go down according to the district's $504.2 million proposed budget for the 2020 school year, which is posted online here.
The district is projecting to run a $14.2 million deficit with this budget.
The proposed budget includes an interest and sinking tax rate of $0.3675 per $100 valuation, which is in line with last year, but a maintenance and operations tax rate of $0.97 per $100 valuation, which is down from $1.04. The overall tax rate will be $1.3375 per $100 of property valuation, down from $1.4075.
The board is scheduled to hear and vote on this proposal at a special meeting Aug. 26. However, because the school district is required by law to have a budget in place on Sept. 1, and because any budget proposal is required to be published online and in print for a period of weeks before being voted on, it will be functionally illegal for the board to not pass this proposed budget.
The maintenance and operations tax rate pays for day-to-day operations of the school district, while the interest and sinking tax rate pays off district debt. Though they are both drawn from property taxes, the funds are legally distinct in several ways.
The compression of the M&O rate comes via state mandate in House Bill 3, Texas' sweeping overhaul of school finance passed this year. District CFO Mike Ball explained at the board's regular meeting Aug. 12 that the bill compresses district M&O tax rates by 7%, though it allows for districts to keep their "golden pennies."
"Golden pennies" are cents' worth of tax above the $1 mark that the state reimburses school districts hundreds of thousands of dollars for charging, making those single cents above the $1 mark worth much more to school districts that the taxes they collect. LISD's existing M&O rate was $1 plus four golden pennies, bringing it to $1.04. HB3 compresses the base rate, but does not touch the golden pennies, meaning that the new rate will be 93 cents plus four golden pennies, bringing it to the $0.97 number.
Adding the steady I&S rate of $0.3675 brings the total proposed tax rate to $1.3375 per $100 property valuation.
The maximum amount of "golden pennies" over the compressed M&O rate a school district can charge is six, after which state reimbursement begins to tail off. This means the district could perform a "tax swap" – charging two cents less on its I&S rate and two cents more on the M&O rate, with those two additional cents being "golden pennies" and coming with state reimbursement. This maneuver would increase district revenue while holding the overall tax rate steady, but LISD would need voter approval to raise the M&O tax rate, even if it comes with a corresponding decrease in the I&S rate. Many surrounding districts have already taken this measure, and LISD has considered it as recently as last year.
Though the tax rate is down, property values in the area have continued to rise, meaning that actual payments may still be going up for homeowners. LISD is projecting to take in $7.8 million more in total property taxes in fiscal year 2020 than it has in 2019, despite the rate decrease. However, this comes with a $10.4 million decrease in state revenue, and total revenues are down $486,479 in this budget.
Despite an increase of less than $10 million to overall expenditures, the proposed 2020 budget comes with some significant changes. Guidance counseling and evaluation spending is up $3.6 million, an increase of 17.94%, and security spending is up $604,770, an increase of 21.88%.
One noticeable decrease in district expenditures is in robin hood recapture, listed in the budget as "contracted services between public schools," the cost of which will be cut by almost half from $34.5 million in 2019 to $18.6 million in the proposed 2020 budget. Ball said at the meeting that the recapture calculations have been changed with new state law.
At the Aug. 12 regular meeting, the board approved a proposal of $2.9 million for property and casualty insurance to USI Insurance Services, which is the district's current provider. The board also approved $362,000 worth of purchases in new printers, which is provided for by the 2017 bond.
On the flipside, the board approved the sale of 18,400 outdated Apple devices, which are currently in the process of being replaced as part of the 2017 bond. The board expects $1.9 million in revenue from their sale.
The proposed 2020 budget will be presented to the board at a special meeting 6 p.m. Aug. 26 at the Lewisville ISD Administrative Center in Lewisville. The next regular meeting is scheduled for 6 p.m. Sept. 9 at the same center, though in regular meetings, open session usually does not begin until 7 p.m. These meetings are open to the public.