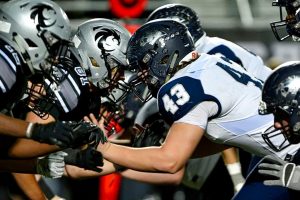 Football season is just around the corner and the programs of southern Denton County are chomping at the bit for what promises to be an exciting 2019 campaign.
For the first time in several years, it looks as if all six schools of the region could make the playoffs and some could have deep postseason runs.
The Flower Mound football team won its first District Championship in school history last season, finishing 7-0 in district competition and 8-3 overall.
Coach Brian Basil said he is optimistic about 2019, especially with the return of a number of impact players.
"Things are shaping up well, with an outstanding offseason and players building on confidence gained from the 2018 season," Basil said. "We lost a great senior class with tremendous leaders, but we have several key players coming back who were key components to our success last season."
Players to watch include: quarterback Blake Short (2,822 yards, 26 touchdowns); running back Pierce Hudgens (1,709 yards, 26 touchdowns); and, defensive tackle Travis McFarling (84 tackles, 9 sacks).
Flower Mound's most challenging opponent will likely be Hebron this season. To repeat upon the success the Jaguars enjoyed last year, Basil said it will take a few things.
"We will have to play with great discipline and toughness, which are trademarks of our program," he said. "We need to have new starters on our O-Line and defensive secondary step-up to replace quite a few seniors lost to graduation in that area."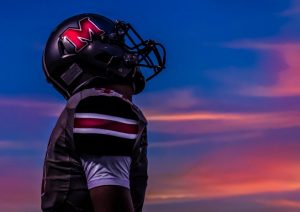 Over at Marcus High School, the Marauders wrapped up last season with a 5-5 overall record, including a 3-4 mark in district competition.
Coach Kevin Atkinson said he anticipates a better finish this year and believes his team will rival for a postseason berth.
"Things are looking good," Atkinson said. "Our players have really been working hard and we are building off our 5-5 record. We feel, as a staff, that our kids are ready to make the next step."
The Marauders return a total of nine starters from last year's team. Atkinson said what has impressed him the most so far is the attitude of his players.
"We feel that the biggest difference between last year's team and this year's team is culture," he said. "We had a nice culture last year, but this year's team has taken the culture and risen [sic] the bar of expectations with our vision and core values."
Players to watch for the Marauders this season include quarterback Garrett Nussmeier (1,557 yards, 12 touchdowns) and linebacker Ethan Barr (128 tackles).
Expect Hebron and Flower Mound to be the Marauders' most difficult district opponents in 2019.
For Coram Deo Academy in Flower Mound, 2018 was a banner year, as the Lions were one-step away from a State Championship appearance.
Coach Doug Hix said that, in spite of losing several all-state players to graduation, he feels good about who he has coming back in 2019.
"We return our leading rusher Cooper Walthall (1,576 rushing yards in 7 games) and our skill positions are deep," Hix said. "But, as everyone knows, the line is where games are won. So, we are counting on some young lineman to step up and fill the roll of four graduating senior lineman."
The Lions finished 11-2 overall last season and Hix said the biggest difference between last year's team and this year's team is that more players will have to establish themselves as leaders in 2019.
"Identifying leaders is a yearly challenge, but I expect some of our young men to step-up and lead the team strongly," Hix said. "Andrew Mainord is as diligent of a worker as they come. So, he has transitioned into that leader role and the boys respect him, as he does them. I also expect Ben Arnold, the Ledbetter twins (Josh and Zach), Jack Herrington, Zach McCalley and Jackson Corley to show strong efforts toward becoming the men the team can follow."
Trinity Christian-Willow Park and Lubbock Christian should be Coram Deo's most difficult district opponents this season. Hix said to have another good run in the playoffs it will take the right mentality.
"It's always about our culture of competitive excellence that drives everything," Hix said. "If we, every day, compete to win, we will be fine– regardless of the outcome of a game or the season. Success will be achieved as we become competitors in this world for God. It's all about our attitude."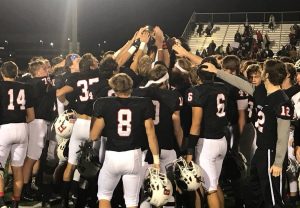 Over in Argyle, the Eagles finished 13-1 last season and lost in the regional finals.
Coach Todd Rodgers said 2018 was a "great year;" and said there will be a lot of new faces this season.
"We graduated several multi-year starters and we will reload with young talented players," Rodgers said.
Argyle has five new starters on the offensive line and four new starters in the secondary.
Players to watch for the Eagles this season include: quarterback Bo Hogeboom (3,366 yards, 44 touchdowns); running back Tito Byce (1,520 yards, 26 touchdowns) on offense; and, defensive back Jake Sullivan (81 tackles) on defense.
Rodgers said he anticipates Celina and Melissa being Argyle's most difficult opponents this season and said the objectives for 2019 are the same as always.
"Our goals have not changed," Rodgers said. "We are gunning for another District Championship, long playoff run and another State Championship."
For Liberty Christian School in Argyle, losing 18 seniors will take its toll on the Warriors program. Coach Steven Greek said he has different expectations for his team at different points in the season.
"Staying healthy and developing younger, inexperienced players is very important during non-district play," Greek said. "Returners will need to establish an uncommon work ethic and commitment to the team. As we learn to focus, have faith, and finish, we believe we have the potential to be in the conversation as a highly competitive program building momentum."
Liberty Christian finished 8-5 last year, going three rounds in the playoffs and return quarterback Daniel Greek (2,337 yards, 23 touchdowns), plus a tough secondary– that includes Collin Gamble (42 tackles, 4 INT's) and Cristian Driver (67 tackles).
The Warriors' most difficult district opponent will likely be Fort Worth Nolan and in order to have another good playoff run, Greek said his team cannot get ahead of itself.
"In the Warriors non-district and TAPPS 6A schedule, there are no weak opponents," Greek said. "Every program and opponent has D1 and D2 talent any given week. The key is to take one game at a time. Teams that look ahead end up at the bottom of the standings.
"By the time the playoffs arrive, the key is to become the best team possible by playing physical on defense, attacking on special teams and executing on offense."
Up in Denton, the Guyer football team had a strong showing in 2018 and Coach John Walsh said he has 17 of his starters back from last year.
The Warriors went two rounds in the postseason in 2018 and are ready to push even further in 2019.
"Last year, we were not happy with our 6-6 record, but were pleased with how we finished," Walsh said. "I thought we were close to be a deep-run ball club."
Southlake Carroll should be Guyer's toughest district opponent in 2019.
Players to watch for Guyer include: quarterback Eli Stowers (2,690 all-purpose yards, 22 touchdowns); Kaedric Cobbs (1,487 yards, 19 touchdowns); and, linebacker Jonathan Jones (84 tackles, 1 INT).
Also, keep an eye on defensive tackle Grant Mahon (Oklahoma State), who missed most of last season due to injury.
Walsh said for Guyer to pick up where it left off in 2018, they will have to avoid the injury bug.
"We just need to stay healthy," Walsh said. "If we have all of our bullets in the gun, we will be there late in the year making noise."