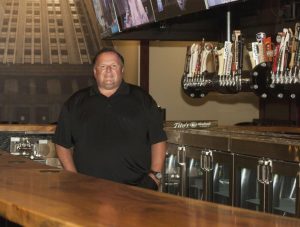 On the walls of Jim Verfurth's newest restaurant in The Shops of Highland Village are several large photos that pay tribute to the many immigrants who came to the U.S. early in the 20th century. Their goal was to work hard to achieve the American Dream.
"There were some really cool accomplishments completed during that era," said the 58-year-old Verfurth, owner of Verf's Grill & Tavern in Flower Mound and Shoal Creek Tavern in Highland Village, as well as former owner of the Village Grill.
"I'm just proud to understand it and know it," he added. "What those people accomplished in that time I really admire. If you think about it, they did it without a cell phone or email; without a computer, without a fax machine. Those are truly accomplishments in my opinion."
One specific achievement especially caught his attention. Growing up in Wisconsin, he naturally has been a lifelong Green Bay Packers fan. So, when it came time to think about what to call his new restaurant, the name Lambeau's came to mind.
Through some research, Verfurth discovered Curley Lambeau was the son of Belgian immigrants, played football at Green Bay East High School then went on to play for legendary coach Knute Rockne at the University of Notre Dame. He returned to Green Bay to work as a receiving clerk in a meat cannery, but missed football.
He convinced his employer in 1919 to put up $500 to buy uniforms and start a team with his girlfriend, insisting they name the team the Green Bay Packers. They were so successful in their first two years, they got noticed by what is now known as the National Football League and received an invitation to join the league in 1921.
Lambeau continued living his American Dream by spending the next 32 years in professional football as a player, coach and general manager.
"To me this guy had a dream, figured out his dream, financed his dream, worked his plan and enjoyed his entire life in football and made a great living," Verfurth said. "That's what was going on in the 1920s."
He pointed out that The Empire State Building, Golden Gate Bridge and Hoover Dam were built in that time period. The Empire State Building was built in 14 months.
"What also was going on with these immigrants that moved here, is they brought their favorite foods that have now melded into the foods we enjoy across this country," he said. "The concept [of Lambeau's] ties back to football by highlighting famous dishes from cities that have an NFL team."
It is that combination that Verfurth is bringing to Lambeau's America Kitchen and Taps located in the former Patrizio's Restaurant in The Shops at Highland Village.
The menu includes everything from Buffalo wings to a giant pastrami on rye, New York and Chicago-style pizza, New England lobster rolls, Kansas City ribs, Jacksonville shrimp and grits, Carolina pulled-pork barbecue, blackened red fish étouffée, plus bratwursts and cheese curds from– you guessed it– Wisconsin.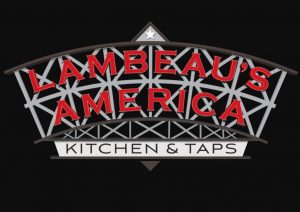 Lambeau's also features a large, horseshoe-shaped bar with built-in wireless chargers for customer cellphones. He also negotiated with The Shops to access the area in front of the new indoor/outdoor patio for live music and other events.
While there are plenty of big screen televisions to watch multiple sports events, Verfurth doesn't consider the place to be a "sports bar." It will, though, be a really great place to watch a game, while enjoying his passion for food which was honed as a classically-trained chef at the Culinary Institute of America.
After graduating in 1981, he headed straight for Texas starting his career as an executive chef at fine dining facilities associated with Intercontinental Hotels in Houston and Club Corporation of America in Dallas. Eventually he became Club Corps' Director of Purchasing for Food and Beverage.
When he moved to North Texas, Verfurth settled in Highland Village and when he discovered an opportunity to own his own restaurant he jumped at the opportunity with the fast-casual Village Grill in 1997.
When Kroger decided not to renew its lease at Highland Village Town Center in 2014, Verfurth decided it was time to move and opened Verf's in 2015, then Shoal Creek Tavern in 2017. He calls both "gastro pubs," focusing on chef-crafted foods, beers, wines and cocktails.
But, while Verfurth spends plenty of time at his restaurants, his "real" job is as a sales, marketing and hospitality consultant for Sysco Foods, where he's worked for 10 years.
He credits his ability to succeed in everything, thanks to his employees– who total nearly 200. He visits the restaurants each morning and in the evenings and works his Sysco job during the daytime.
"I really enjoy the combination, because I learn things at Sysco and my customers who have helped me in my own business and I'm able to take what I know in my own business and help my customers," he said. "So, the knowledge feeds both ways. I love the collaboration of all of that."
When not working, he enjoys time with wife, Darla, their combined seven children and five grandchildren. While he still experiments with some recipes as daily specials to test future concepts and ideas, he relies on his staff to execute the details and help him achieve his own version of the American Dream.
"I'm very blessed," he said. "I really enjoy my opportunity to invent the restaurants, come up with the ideas, train the staff, have my experts– who already are working for me– continue to evolve our processes and train our team. We really feel like a family; all the employees we have together.
"I've been able to come up with the ideas, figured out a way to finance it and figured out how to make it work and encouraged some people to come along for the ride and, so far, it's worked out pretty well for all of us."
So, while wearing Packer green-and-gold isn't necessary, it couldn't hurt!