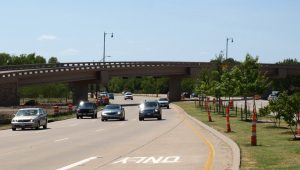 Flower Mound staff and cleanup crews are working Thursday to clean up a construction material spill in a creek in south Flower Mound.
Around noon Wednesday, the contractor crew working on the Bakers Branch Collector Phase II project — located on Gerault Road, just south of the Lexington Avenue intersection — was filling the old pipe with grout and spilled some of the grout material into the nearby creek, according to Molly Fox, director of communications for the town of Flower Mound.
Cleanup crews have contained the spill at the Gerault bridge and are skimming the grout — which floats — from the water. Staff will ensure all the material will be removed. Residents and their drinking water were not in danger from the spill, according to the town.
The Bakers Branch Collector Phase II project includes the installation of approximately 2,300 linear feet of 18-inch wastewater main that replaced an existing 12-inch/15-inch wastewater main. Once a new wastewater main is connected, the old line is filled with grout and left in place.