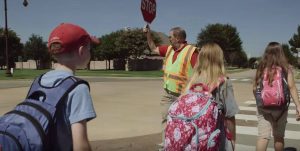 After the Flower Mound Town Council voted 3-2 Monday to shift crossing guard duties from an outside vendor, All City Management Services, back to the Flower Mound Police Department, ACMS notified the town that it was following the 90-day cancellation language in the contract and services would end 90 days after council voted to cancel the contract.
The motion by Council member Jim Engel was to cancel the contract as of January 1 of next year, but the ACMS contract did not contain language about cancelling the contact in the future.
FMPD oversaw the crossing guard program until the town's first contract with ACMS in 2017. Council voted to cancel the contract effective Jan. 1, 2020, but the ACMS contract only provided a 90-day contract termination notice, and ACMS followed the contract agreement with the town thus moving up the effective transition date to midnight on Nov. 6, confirmed by the news release sent Thursday by the town.
To prepare for this transition, FMPD will be holding a job fair, along with the necessary orientation meetings prior to the switchover. Dates and times for these events have not been determined as of Thursday, according to the news release. Once scheduled, that information will be released publicly.
For questions, contact FMPD Capt. Shane Jennings at [email protected].