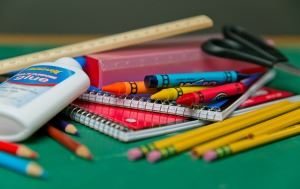 Tax-Free Weekend begins Friday, giving customers a break from sales tax on certain items before kids go back to school.
During the annual sales tax holiday, you can buy most clothing, footwear, school supplies and backpacks (each item must be under $100) from Friday through Sunday with no sales tax, which is about a 6% discount. These purchases are can be from a physical store or an online or catalog seller doing business in Texas, according to the Texas Comptroller's website. In most cases, you do not need to give the seller an exemption certificate to buy qualifying items tax-free.
Offers.com recently shared some tax-free shopping tips for Texans:
If you're planning on using a business account to purchase your tax-free items, make sure you have an exemption certificate to prove you're shopping for a student
Use this as a chance to shop for more than just back-to-school items, like office supplies and work clothes or work uniforms. Plus, diapers are included on the tax-free list, so families may want to stock up.
According to the Texas Comptroller's office, you can use layaway plans to purchase tax-free items, provided you put the qualifying item under a layaway plan during the tax-free holiday OR makes the final payment during the holiday.
Online purchases qualify for waived sales tax if the order is accepted by the merchant and paid for during the sales-tax holiday.