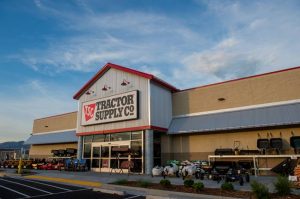 Tractor Supply Company will celebrate its new store's grand opening in Bartonville with a four-day community event.
From Aug. 15-18, customers will receive a 10% discount on all purchases. During the main event on Saturday, Aug. 17,  visitors will have the opportunity to meet the store's team members and learn about Tractor Supply's product offerings. The store will give away gift cards and Tractor Supply hats while supplies last, according to a news release.
"We are eager to open our doors to the Bartonville community and plan to do it in true Tractor Supply style—with a focus on our customers," said Karla Callaway, manager of the Bartonville Tractor Supply store. "Every Tractor Supply store is a true community partner, so this event, like any other, is about welcoming in our neighbors and showing them what we're all about while providing a fun experience the whole family can enjoy."
The Bartonville Tractor Supply store, 2201 FM 407 East, will keep regular business hours from 8 a.m. to 9 p.m. Monday through Saturday, and on Sunday 9 a.m. to 7 p.m.
The Bartonville Tractor Supply will provide a one-stop shop for farmers, livestock and pet owners, ranchers, part-time and hobby farmers, gardeners, homeowners, tradesmen and others. Tractor Supply customers will be able to choose from a wide range of products including workwear and boots, equine and pet supplies, tractor and trailer parts and accessories, lawn and garden supplies, sprinkler and irrigation parts, power tools, fencing, welding and pump supplies, riding mowers and more, according to the news release. The store will carry top brands, such as Purina, Carhartt, Blue Buffalo and Hobart, as well as products exclusive to Tractor Supply. The Bartonville store will also include a pet wash station where customers will have access to professional grade wash bays, grooming tables and tools.
In addition to supplying dependable products for farm, ranch and rural customers, the Bartonville Tractor Supply will regularly host events with community partners including local animal shelters, area 4-H clubs and FFA chapters and more. Customers can also sign up for Tractor Supply's new Neighbor's Club loyalty program, which will make them eligible to receive member-only offers, birthday offers, personal purchase summaries and receipt-free returns.
Click here for more information.