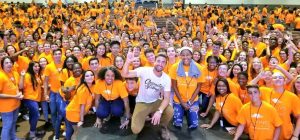 Students from all five Lewisville ISD high schools – Flower Mound, Hebron, Lewisville, Marcus and The Colony – are joining together for the second consecutive year for a Kindness Convocation on Thursday from 5:15-8 p.m. at Leo C. Stuver Auditorium at Lewisville High School.
Nearly 1,000 students – about 150 from each main high school campus and 50 each from Flower Mound 9, LHS Harmon, LHS Killough and MHS 9 – are signed up for the free event, which will feature Mixed Media Creations Founder/President Susie Carter as the keynote speaker, according to news release from the district. In addition, 10 students – two from each high school – will have speaking roles and there will be a special video message from Character Strong's Houston Kraft, last year's keynote speaker.
All students in attendance will be clad in the color purple (a switch from orange in 2018-2019) and will be dubbed as "Kindness Ambassadors" for the upcoming school year.
The project is completely student-driven, sparked by a group of 50 students who met with LISD and high school administrators in May 2018 to put the inaugural convocation plans in motion. Students stepped up again to ensure the movement continues this year, according to the district.
"I am so proud of our Lewisville ISD students who have taken the lead on the LISD Kindness initiative," said Andy Plunkett,LISD Assistant Chief of Schools. "They are continuing the tremendous work from last year and challenging their fellow students to keep making kindness normal."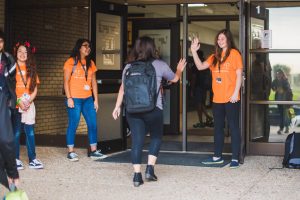 In addition to student speakers, the convocation will feature appearances by Plunkett and DFW Pro DJs. LISD special education teacher Phillip Humphries will serve as master of ceremonies. All students will receive an event T-shirt, bracelet and ID lanyard, as well as be treated to a barbecue dinner prior to the event. Sponsors include PointBank, Mixed Media Creations and Jackson Construction.
The convocation will also be a warm-up for the second annual "Kindness Week" set for Aug. 19-23 at all LISD high schools. The week will be led by the Kindness Ambassadors and feature themes and social media challenges each day.
For more information, visit lisdnet/bekind.