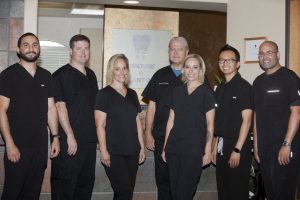 Until they first met while helping people last fall at Mission Arlington, Johnny Hua and Dax Sinn didn't know each other. Now, they own Argyle's newest dentistry practice.
Denture and Implant Docs of Argyle opened July 1. It's Hua's first practice since graduating from dental school in May, while Sinn has worked in the field for 17 years.
"We got connected in February and we were talking about my future in dentistry and one thing led to another and here we are opening up together," said Hua, who grew up in Dallas and Carrollton, while Sinn is an Irving native who lives in North Fort Worth.
So, why did they choose Argyle?
"I really liked the smaller town and we looked around North Fort Worth and the Justin area then spoke to my dental broker and he said a spot opened in this area," Hua said. "We came and checked out the office and loved it."
Sinn started his dental career selling implants to doctors.  After about five years, he decided he wanted to insert them. He owned a practice for seven years in Mansfield, worked as an associate in the Austin area for several years, then– as a corporate dentist in Fort Worth.
Hua, who also owns Zero Degrees smoothie franchises in Carrollton and Fort Worth, served as a dental assistant for five years in the Austin and Dallas/Fort Worth areas, before going to dental school.
Hua will start out performing general dentistry– when pertaining to partial dentures– while building his business.
His mentor, Sinn, already serves many denture and implant patients from throughout the state; and, as far away as New York. The practice soon will feature an in-house lab, with a certified dental technician to help with the denture work.
"We market ourselves as dentures and implants, because that's what our focus is, but will be doing minor general dentistry procedures for patients that require partial dentures," Sinn said.
Denture and Implant Docs of Argyle is located at 306 Highway 377 N., Suite A. It can be found on the web at: dandidocs.com.